Last Windows Phone, the Wileyfox Pro, is on sale again
by Habeeb Onawole ago0
Microsoft pulled the plug on the Windows Phone operating system last year and it came as a shock to a lot of people. After the announcement, British manufacturer, Wileyfox, still went ahead to release a Windows phone – the Wileyfox Pro. The phone which is informally referred to as the last Windows phone went on sale for a few months before it stopped selling. Now it is back on sale again and for less too.
The Wileyfox Pro originally launched for £189.99 which was quite high for the specs it packed. However, you can purchase it for £89.99 now on Amazon UK. For that amount, you are getting a 5-inch HD screen with Gorilla Glass 3, a Snapdragon 210 processor, 2GB RAM and 16GB of expandable storage. The Wileyfox Pro also has an 8MP rear camera, a 2MP front-facing camera, and a 2,100mAh removable battery.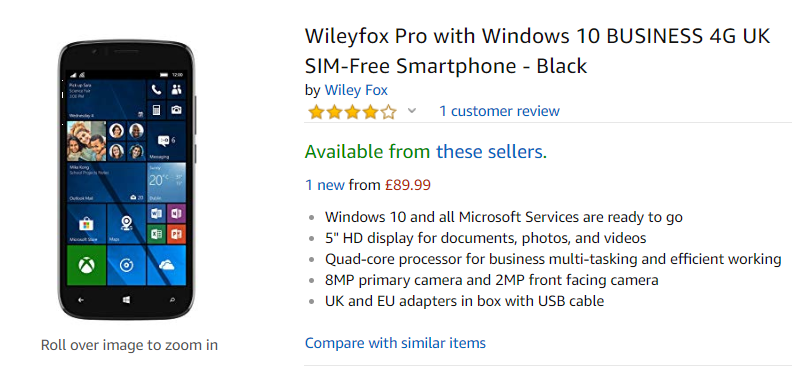 There are scores of Android phones that have better specs that you can buy for the price of the Wileyfox Pro but remember, you are not buying it for the specs but for the OS.
READ MORE: Microsoft brings Android mirroring on Windows 10 via Your Phone app
We don't know how many units Amazon has in stock, so we advise you hurry and grab one for that phone museum you are planning. I sure can't be the only one thinking of a personal phone museum.