The Kirin 980 chipset that powers the Huawei Mate 20 series of flagship phones and the Honor Magic 2 is a smaller 7nm chipset compared to the 10nm Kirin 970 SoC. To be precise, the Kirin 980 is 30 percent smaller than its predecessor. A die shot of the new chipset has been surfaced to reveal the placement of its different components.
The HiSilicon Kirin 980 SoC measures only 74.13mm2. The top-left corner of the SoC features Mali G76MP10 graphics. It promises 50 percent better performance than the predecessor Mali-G72 MP12 available on the Kirin 970. The Kirin 980 is the first SoC from HiSilicon to adopt new DynamicIQ technology by ARM which makes it possible to build chipsets with versatile designs.
The quad-core Cortex A76 CPUs arranged in two pairs are attached the DynamicIQ Shared Unit (DSU). The offer different processing speeds of up to 2.6 GHz and 1.92 GHz. Each core of both the pairs are equipped with 512KB private L2 caches.  On the either sides of the DSU is the quad-core Cortex A55 that can function at up to 1.8 GHz. The 4MB L3 cache is also attached to the DSU. The above image also shows the placement of the LPDDR4X RAM controllers. The Kirin 980 is the first SoC to feature 2,133Mhz memory.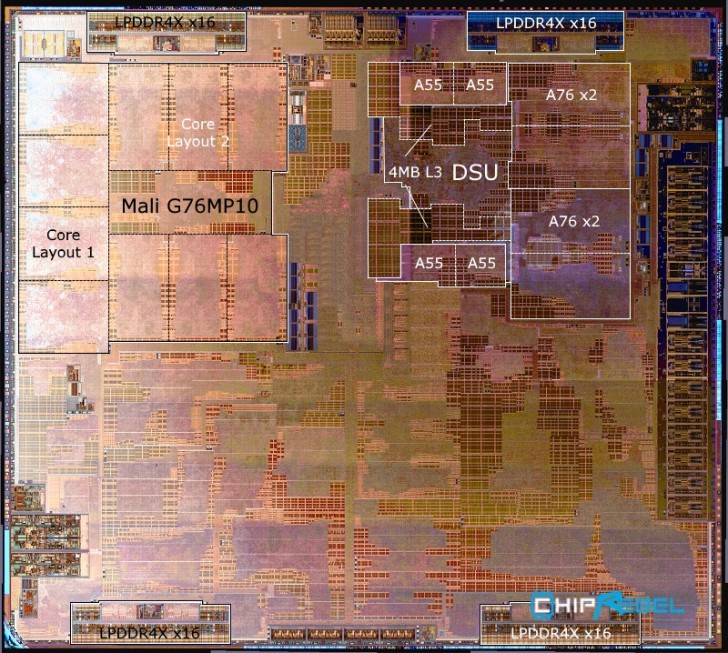 The above image was shared by Chiprebel and the different components on it were labelled by AnandTech. What's interesting about the layout is that the dual-core NPU unit for handling AI tasks cannot be seen. It should be present on the chip, but its position could not be identified. According to Huawei, the NPU unit of the Kirin 980 is two times faster than that of Kirin 970.
The recently unveiled smartphones such as Mate 20, Mate 20 Pro, Mate 20 X, Mate 20 RS Porsche Design and Honor Magic 2 are all powered by the Kirin 980. The performance of the Kirin 980 powered Mate 20 series phones is such that the top 3 positions of the on the list of AnTuTu's best performing Android smartphones for October is led by Mate 20, Mate 20 Pro and Mate 20 X.