Xiaomi India announces increase in price of Redmi 6, Redmi 6A, Mi TVs and more, cites weakened Rupee
by Habeeb Onawole ago0
Just a few days ago, Realme announced it was increasing the prices of two of its products – the Realme 2 and the Realme C1. The company which is an off-shoot of OPPO gave the reason for the upward price adjustment to be the weakening Indian Rupee. Today, it is Xiaomi's turn to increase prices and it affects a lot more products.
The announcement was made on Twitter by the managing director of Xiaomi India, Manu Jumar Jain. He explained that the reason for the price increase is due to the Indian Rupee's depreciation against the US Dollar by ~15% since the beginning of the year. Below is a list of the affected products and their new prices:
Redmi 6A
The 2GB RAM + 16GB and 2GB RAM + 32GB models of the Redmi 6A will add INR 600 and INR 500 to their old prices respectively and will now be sold for INR 6,599 (~$91) and INR 7,499 (~$104).
Redmi 6
The Redmi 6 with 3GB of RAM and 32GB of storage will also get a INR 500 price increase and will be sold for INR 8,499 (~$117) henceforth.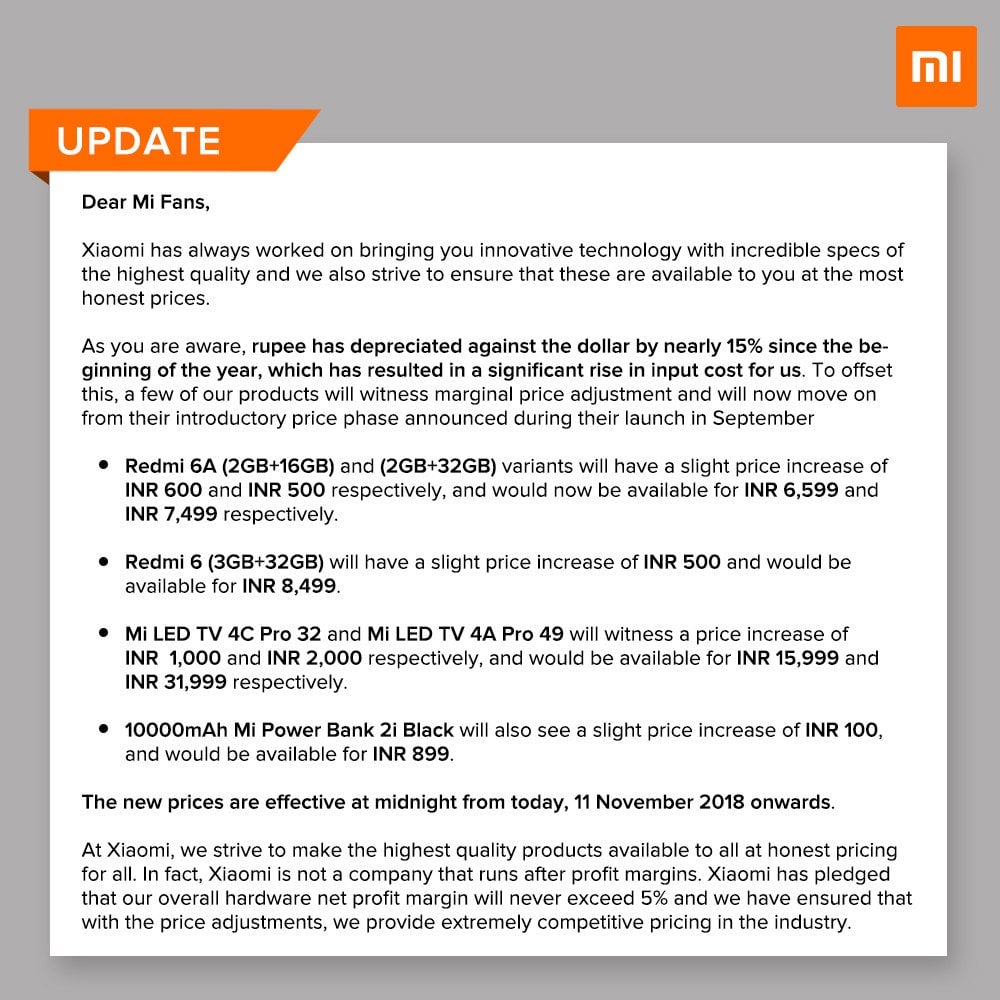 Mi LED TV
The price increase affects the Mi LED TV 4C Pro 32 and the Mi LED TV 4A  Pro 49. Xiaomi has added INR 1,000 and INR 2,000 to their old prices respectively. Henceforth, the 32-inch 4C Pro will be sold for INR 15,999 (~$220) and the 49-inch 4A Pro will go for INR 31,999 (~$441).
Xiaomi entered into the Indian smart TV market this year and has now become the number one brand in the segment. However, the increase in the price of the TVs may slow down its growth.
Mi Power Bank 2i (1o,000mAh Black)
The black Mi Power Bank 2i with a battery capacity of 10,000mAh gets a INR 100 price increase and will now be sold for INR 899 (~$12.40). The limited edition Red variant is currently sold at the above price.
READ MORE: Xiaomi marks its UK debut with the launch of Mi 8 Pro for £499 ($654)
Xiaomi said the new price for the above products will take effect at midnight, 11th of November, 2018. As at the time of writing, there is still about 7 hours left for you to make your orders at the old price.
(Source)