Cosmo Communicator, a PDA/Laptop form-factor device hits 350% crowdfunding goal at Indiegogo
by Simran Singh ago0
It's been just a week, since the Cosmo Communicator has hit the crowdfunding website, Indiegogo. Its sudden surge in crowdfunding has given us a glimpse of idea's popularity. It is generally a PDA/Laptop form-factor based Android device which can be used to perform tasks which we usually do on the large screen devices. It can be unfolded into a full-fledged laptop, and it carries multiple displays. It is developed by Planet Computers which already has experience in developing these kinds of devices.
In a span of just seven days, Cosmo Communicator has hit over 350% of its target and still, three weeks are left. It has already exceeded the expectations, while in the coming days we can expect it to get much more funding. There's a lot more that Cosmo Communicator is offering at the price of $550 (early-bird price).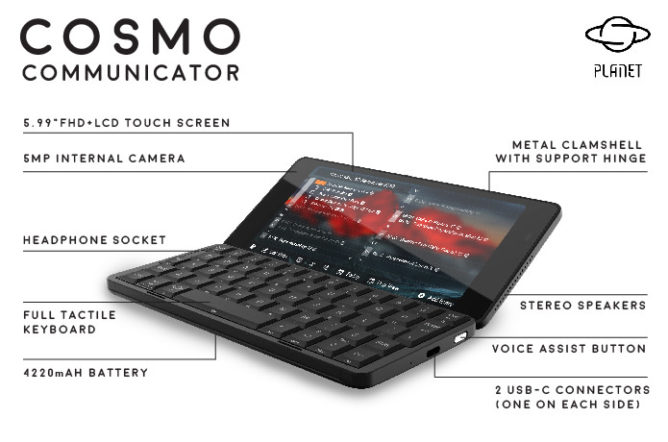 It carries multiple displays, one on the interior of the flap and one on the exterior side. Precisely, Cosmo Communicator is packed with a 5.99 inch of LCD primary touchscreen and a 2-inch colored touchscreen display (exterior side). It is powered by a MediaTek P70 processor which is a little less if we compare it with the price, though we hope it is calibrated fully to work without a hitch.
In the camera department, it carries a 5-megapixel internal camera while a 24-megapixel high-resolution camera is present on the exterior side. You will get a metal clamshell with hinge support, and stereo speakers with a dedicated Voice assistant button. In order to give you an option to provide full Laptop kind experience, Planet Computers have added 2 USB-C connectors on each top and bottom sides. The mechanical keyboard makes it perfect and different from other devices. You need not worry about the battery, as it hosts 4220 mAh battery capacity.
On the exterior side, Cosmo communicator packs a toggle switch with a fingerprint sensor having a 2-inch display to show important information. Also, a 24-megapixel primary camera is also embedded on the exterior side. There's also a dual orientation microphone and speaker with microSD+SIM slots.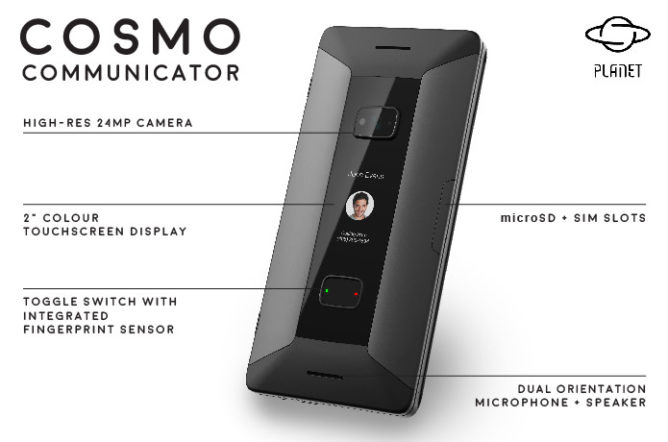 It will come with Android 9 .0 Pie on board, but you can also multiboot it with Debian Linux and Sailfish Operating Systems. It will be made available in the "Space Grey Metal" color for $550, while a gold version will sale for $2000.
You can also crowdfund for the device for different amounts. It will start delivering by May-June 2019 but projects like these always face some delays in the production or delivery. Fingers crossed as of now, we can 't say anything right now.
Well, what do you think about the Cosmo Communicator? Is it worth $550?
(Source)