Lenovo Z5 Pro Being Sold at Higher Prices by Resellers, VP Chang Cheng Responds
Lenovo announced its most high-end handset in 2018, the Lenovo Z5 Pro, two weeks back in China. Not only does it come with razor-thin bezels and a slider design, but it is also the cheapest of all slider phones in the market coming in at just 1,998 Yuan (~$287). No wonder there was an overwhelming interest in the handset when reservations started and Lenovo recorded 500,000 registrations. The handset went on sale on November 15 for the second time and it quickly went out of stock just like the first sale. However, some potential buyers also found the handset being put on sale at Jingdong, Taobao, and even Weibo by purchasers at a higher price.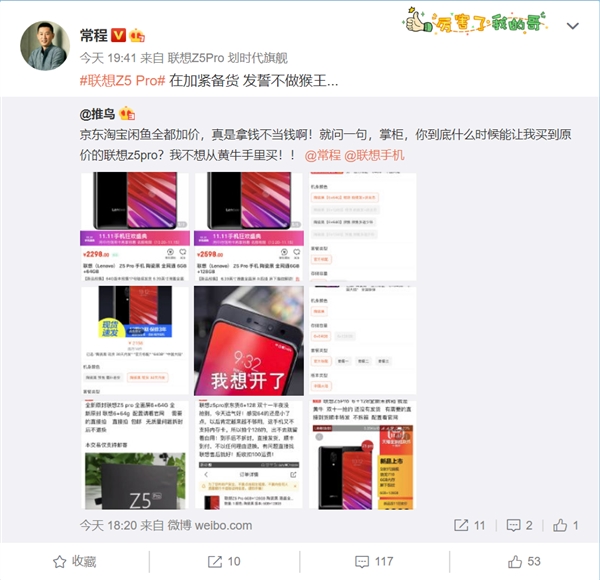 The VP of Lenovo, Chang Cheng, was quickly made aware of the situation and he has responded saying that Lenovo will be stepping up production to avoid similar incidents. The next round of sales on Jingdong Mall is displayed to be on November 22 10:00. The handset's 6GB+64GB is priced 1998 yuan and the 6GB+128GB retails for 2298 yuan.
The highlights of the handset include an extremely high 95.06% screen-to-body ratio on the 6.39-inch Samsung AMOLED display. The bezels have been advertised to be slimmer than even Xiaomi's slider phone the Mi MIX 3. The other attention grabber is the fifth-generation photoelectric screen fingerprint which is considered to be faster and more accurate than previous generations. Under the hood, the handset boasts a Snapdragon 710 SoC and a battery capacity of 3350mAh. For more information on specs, visit this link here. It does, however, come in just one Black color option.
(Source)