UNESCO appreciates Xiaomi's efforts to make smartphone content accessible to the visually impaired
A recent 2018 report on visually impaired internet users released by Tencent had shown that there are more than 17 million visually impaired people in China, and that 75% of the visually impaired users are after 80s and 90s. In terms of online habits, the report also shows that 95% of visually impaired users use mobile phones to access the Internet. Out of this number, nearly 90% of visually impaired users choose mobile phone brands Huawei, Apple and Xiaomi.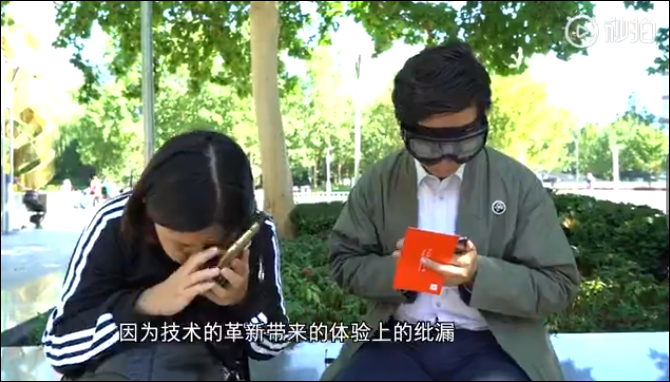 The report also shows that visually impaired users have higher demand for knowledge content, and inconvenient operation is the main problem encountered when accessing information on their phones. Most smartphones today are equipped with a "blind mode" such as "VoiceOver" on iOS for iPhones and "TalkBack" for Android phones. Both features allows texts to be read out by voice, making it easier and more convenient for visually impaired people to use their smartphones.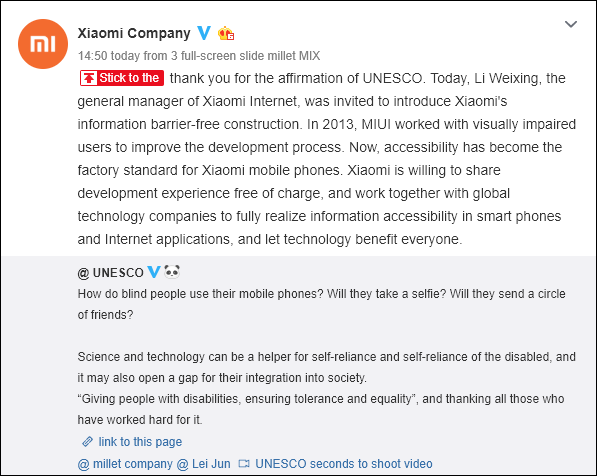 Read Also: Xiaomi announces Mi MIX 3 Forbidden City Edition will go on sale in December
For its continued efforts in this regard, the United Nations Educational, Scientific and Cultural Organization (UNESCO) has reportedly lauded Xiaomi's efforts in ensuring that persons with disabilities are given equal opportunities to b able to utilise technology which also ensures they are fully integrated into society. The UN agency did this in a post on its official Weibo account. The post also had Xiaomi's official Weibo account as well tas that of Lei Jun as mentions. The post also contains a video which demonstrates how visually impaired individuals are able to use Xiaomi smartphones. Xiaomi's CEO Lei Jun was quick to respond to the recognition by UNESCO. Here's his response- "Thanks to the UN's recognition of Xiaomi's work. We will always insist on making friends with all users and continue to invest in information accessibility, truly enabling everyone in the world to enjoy the beautiful life brought by technology".
(source)