WhatsApp 2.18.380 finally brings PiP mode for stable version users
by Simran Singh ago0
It's been a while since the PiP feature has made its popularity across popular apps such as YouTube, Facebook, and few other apps. Now, the same feature is rolling out to WhatsApp stable version 2.18.280. Earlier, Picture-in-Picture mode was limited to WhatsApp beta users since past few months. The update is now rolling out to users via the Play Store along with other changes and minor fixes.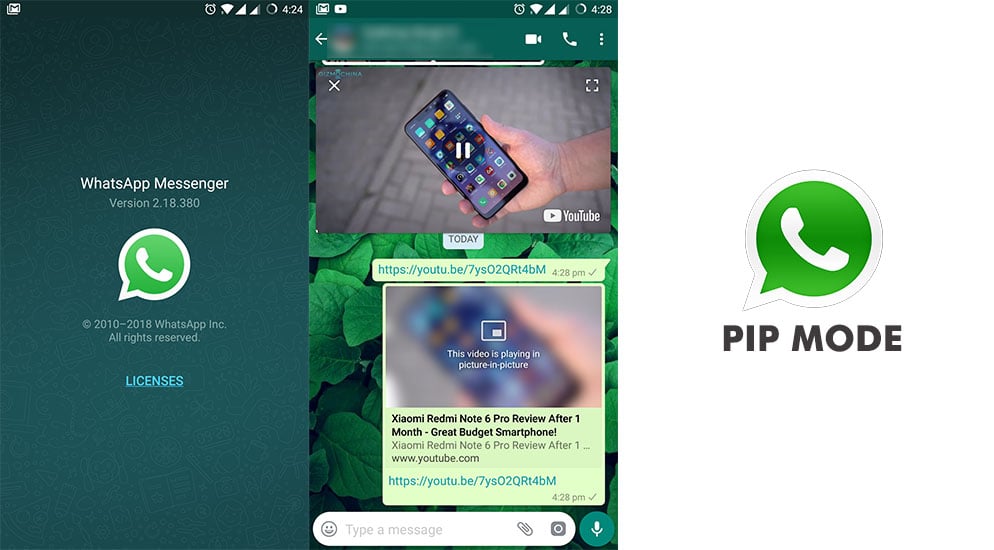 Despite the popularity of the PiP mode since last year, it took a whole year for WhatsApp to engrave such a useful feature. Although, the same feature is already available for YouTube Red subscribers and on the web version, Facebook Android app, VLC media player app, and various other apps.
Due to efforts from the WhatsApp development team, the largest social messaging app has touched two billion monthly users. Recently, they have added a slew of useful features to the WhatsApp to make it incomparable with its competitors. Features such as group managing features, refined search, "Mark as read" shortcut, group voice and video calls, dark mode and others have made it even more interesting. Even though, the new gesture-based replies have also taken place in the last update.
The new PiP mode compatibility with the WhatsApp stable version will give it an edge over other social messaging apps. The PiP mode is currently compatible with YouTube, Facebook and Instagram videos only. It will make all the video links of the above mentioned social media channels streamable within the WhatsApp itself. So, from now on users can play the videos in picture-in-picture mode without leaving the chat with their loved ones.
It seems quite a productive feature which users were waiting on Whatsapp from a long time. Well, it is here, users can start enjoying it by updating their app from the Play Store. The feature is enclosed in the Whatsapp stable version 2.18.380.
(Source)