Honor smartwatch rocking MediaTek SoC gets Bluetooth SIG certification
Just like its parent company Huawei, Honor has really been working so much these last few months. Since the shift of focus from flagship models, the brand has made several strides in the mid-range and budget segment. The inexpensive Honor 8C and Honor 8X are already making great pace in India. During the various shopping holiday activities, the company's products sold in droves. Even the high-end models like the Honor Magic 2 and the eagerly-awaited Honor View 20 are beginning to carve out a high prestige for the brand in the higher market and likewise in the innovation segments.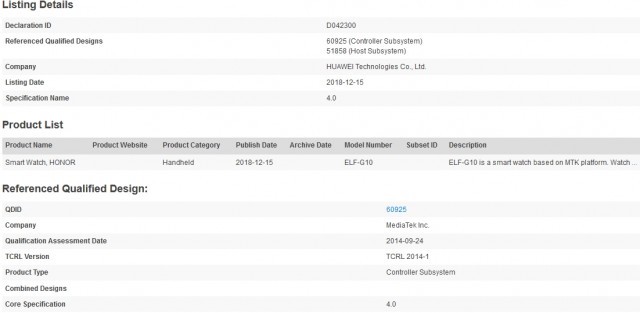 Away from the smartphone segment, the Honor brand also has its tentacles spread to the smart wearable market. Honor only newly released its Watch Magic – a more or less slightly downgraded twin to the Huawei Watch GT. Now, a new Honor watch is already on the horizon, as shown by a Bluetooth SIG certification.
Unfortunately, a lot of hardware details was not given by the public document on the mystery gadget which goes by the model number "ELF-G10". The document does, however, specifically refer to it as a "smartwatch", as opposed to the various style of wearable, like the Honor Band 4. Still, the smart bit is obviously present, hence the Bluetooth 4.0 Low Energy standard support the document is meant to certify.
Read Also: Buy The Sports And Classic Variants Of The Huawei Watch GT At Dropped Prices On Giztop
Another interesting bit of information about the watch is that it will obviously be based on a MediaTek platform. While definitely not unheard of, it will be a far less common option of the chipset as compared to Qualcomm's wearable solutions, which presently have a greater share of the market. However, Huawei and consequently Honor have begun experimenting on both hardware and software fronts with their recent wearables. The Watch GT, for example, makes use of an innovative dual-chipset design, with a custom ultra-low-power chip running most of the basic functions of the watch and a more stronger package only setting in when needed. On the software side, the two companies now possess their own LiteOS operating system for watches. Perhaps Honor is devising means to optimise battery even further with different experimental platform design in this recent wearable.
(source)