Huawei files trademark for "3D CuteMoji" which may feature on the P30 series
As usual, we expect to start seeing clues and leaks regarding the flagship models most of the top OEMs plan to roll out for the first half of 2019. Huawei is known to release the P30 models within the first quarter and this year may likely not be different. Last year's P20 series came out with several innovations and the P30 series isn't going to be any different. That is why we are excited about the spotting of a new trademark application which Huawei filed on December 28 in Peru.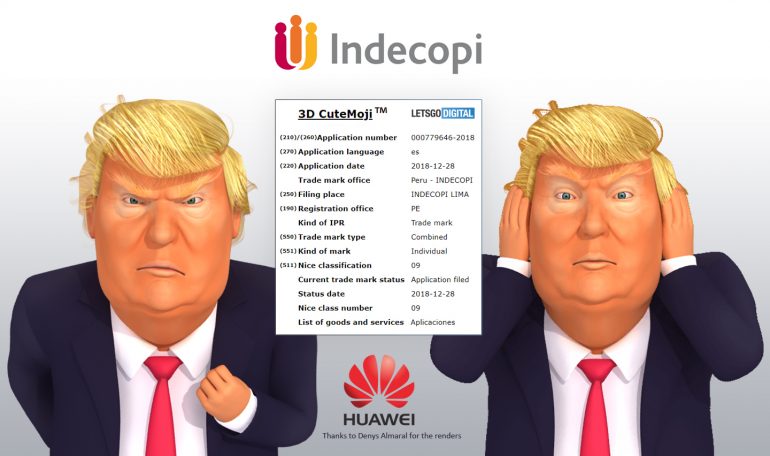 The trademark is for a feature known as "3D CuteMoji" and the application was submitted by an intermediary named Indecopi and based in Lima, Peru's capital. The trademark is classified as; 'computer programs, data processing equipment, downloadable software'. As the name implies, the trademark is for a new set of  3D emojis which may likely feature on Huawei's upcoming flagships.
Read Also: Huawei P30 Pro screen protectors suggest waterdrop notch display
Emojis are not necessarily new but since Apple introduced its own more realistic emojis known as Animoji onboard the iPhone X in 2017, the feature has become increasingly popular.  Samsung was soon to follow with its own known as AR Emoji and Asus chose the name ZeniMoji for its emojis. Huawei equipped last year's P20 series with an AR lens which looks like a variation of the emoji from Apple and Samsung. However, the AR lens feature was replaced on the Mate 20 Pro with 3D Live Emoji also called Qmoji. The Qmoji allows users to choose an avatar, record a creative message and send it to friends or colleagues. The 3D CuteMoji may hardly be too different except perhaps it will contain more human characteristics as seen in the image of Donald Trump with two different facial expressions. We'll have to wait till the P30 series are unveiled next month during the Mobile World Congress (MWC) 2019 to learn more about the feature. Between, who else found it hilarious that Huawei chose the caricature of Trump, the company's nemesis to depict the feature?
(source)