Lenovo K800 the world's first smartphone with Intel processor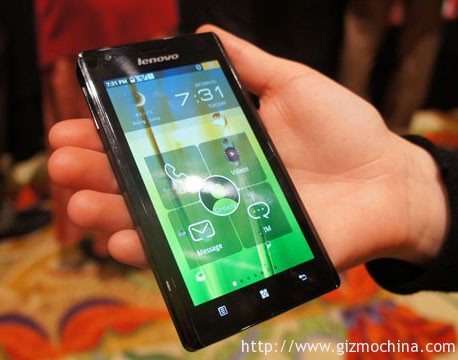 Smartphone products with Intel processors began to appear. One of the first smartphone to use mobile processors made by Intel is Lenovo K800 which has been release in China recently.
Lenovo K800 using 1.6 GHz Intel Atom Z2460 (Medfield) processor is equipped with a PowerVR SGX 540 with speed 400 Mhz graphics processing unit. Lenovo K800 powered by Android 4.0 (Ice Cream Sandwich), Sports with 4.5 inches screen display with 720×1280 pixel resolution and 8 megapixel rear camera.
To accommodate the needs of local customers in China, Lenovo has built a special interface named "LEOs". Leos is an interface for Lenovo user in China, much like the HTC Sense on HTC or Samsung TouchWiz on the Samsung phones. Leos is customization interface for Lenovo which running Android OS.
China Unicom is the cellular provider who ready to adopt this phone in Chinese market. Lenovo K800 is also equipped with HSPA connectivity for data transfer from the internet using China Unicom data services.
Other features include with this phone is HDMI display output, near-field communication (NFC) for data communications with other mobile devices, and Intel wireless display technology that allows users to channel the output images to an external display devices without using cables.
Actually, Lenovo K800 is a smartphone based on the Intel processor that has been launched  following the Lava Xolo 900 who had already been released in India last month.
A number of other smartphones with Intel processors are also scheduled for release in the near future, including models from Orange, Motorola, and ZTE.
Intel, the chip giant manufaturer is widely known through the series of desktop and mobile processors, and now they trying to expand into the smartphones and tablets market.
According to the testing reported so far this technology, Atom Z2460 processor which embed to Lenovo K800 is used to offset or exceed the performance of some products smarphone competitors, such as Samsung Galaxy S II and the Apple iPhone 4S.