China Unicom 3G services upgrade to HSPA+ in 56 Cities of China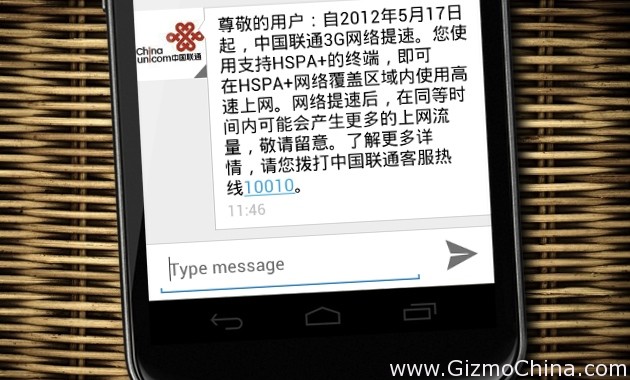 In good news for lots of smartphones users in China, China Unicom the one of largest mobile service provider has been reported that upgrade their 3G services to HSPA+ services in 56 cities of China.  Unicom's regular WCDMA 3G network can hit 7.2Mbps network speed – but with HSPA+ soon reaching mobile devices, more folks can get (theoretical) speeds of up to 21Mbps.

China Unicom launched the first HSPA+ standard of the new terminal officially listed on the card for the 3G, HSPA+ standard class on the new China Unicom 3G card equivalent to the current rate on the card 3 times.
A is the pre-paid product package, the product package retail price of 1,300 yuan, 1,300 yuan with pre-deposit, and the other hardware on the card presented one, is very cost-effective for users. The flow of such charges on the card default charges 80 yuan per month package 1G flow, the user can choose according to their actual change packages.
Hardware on the card ready at the same time, China Unicom for such speed 3G network card after the development of the price tariff policy. It is reported that after the 3G speed on the card will perform the two pricing policies:
It is reported that Huawei 21M model is Huawei card rates on the E353,Tory Burch Flip Flops cheap, ZTE model MF668A. Current progress is that ZTE and Huawei not only through the selection, but has been able to supply large quantities.
In May last year, China Unicom announced that 56 cities in the country to complete 3G network upgrade, and sale of wireless LAN products supporting HSPA + network in these cities.
At present, in addition to a variety of wireless network card products, including Huawei Ascend P1 and other smart phones also support HSPA + network. China Unicom, the relevant departments responsible person, Unicom's 3G subscribers as long as the replacement of a support HSPA + network card or mobile terminals, do not subscribe to, you can automatically upgrade to HSPA + network.
Should be noted that, outside of the 56 cities around the other, the user is temporarily unable to use the HSPA + network, but to support HSPA + network, the end product is backward compatible with existing 3G networks.