Chinese website of the New York Times today formally launched To enter the Chinese market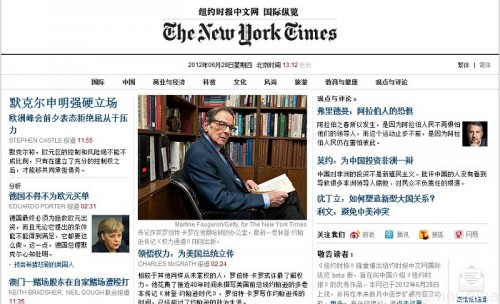 Chinese website of the New York Times today formally launched the New York Times also opened Sina, Tencent, Sohu and other official microblogging (but so far only Tencent microblogging can access Sina Sohu microblogging may be due to audit and other issues has not officially opened).According to the New York Times official said the Chinese site is still in the testing phase, they will in the following months in succession to complete the adjustment of the various functions, the spokesman said "New York Times" The Chinese version will readers Free news service.
The New York Times launched a Chinese version of "gray Ms. (Grey newspaper the Lady's nickname) have the opportunity to the global growth in China, the fastest and the most likely to make money online media market a share. The newspaper said the Chinese version of the site location crowd of well-educated Chinese who lives in affluence and accept global middle class of things, its Chinese website will be specifically edited for readers in China, introduced to Chinese readers the best of The Times's award-winning news translation and excellent local author's work.
Article updates the site every day there will be about 30, "New York Times estimated that about two-thirds of its Chinese site will be employees from the area, the rest will be used of China's Submission works.
When it comes to China's censorship, even though the "New York Times on China's Internet content censorship worried, but he launched a Chinese version, and the New York Times indicated that they would follow their own standards of journalism (From this point, Xiaobian personal trip to China, "New York Times" would not be too smooth). Said: "We will not because the Chinese government's request to lower the standard, not like the Chinese media as the operation." International Editor of The New York Times, Joseph Kahn, "We hope and expect that Chinese officials welcomed what we do."
"New York Times" is obviously not into the forerunner of the Chinese media market, the Wall Street Journal and the British "Financial Times" Chinese website has been launched for some time, will it enter a new field is completely different from the Western media . However, this might be the "New York Times" of considerable significance, the newspaper has been trying to find new revenue opportunities in the saturated U.S. media markets, perhaps China's huge market is their new target.
Flipboard in May of this year released its Chinese version, but a spokesman for the New York Times New York Times Chinese network will not be landing Flipboard application of Chinese.