Android raise 68% market share of mobile OS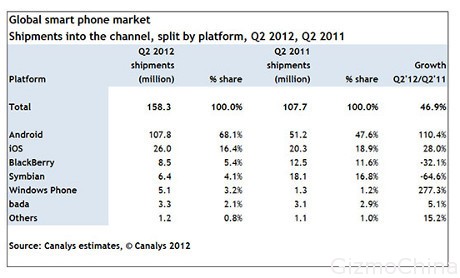 Android is still a king in the smartphone market. Recent research says, Android smartphone shipments market share globally reached 68%, far above its competitors.

At least that findings from research firm Canalys . Approximately 100 million units from 158 million units of mobile phones shipped in the second quarter of 2012 running Android OS.
As quoted from the Business Insider, at the second place is Apple iOS used in the iPhone. According to data from Canalys, the market share of iOS is 16.4%.
In the third position is the BlackBerry with 5.4% of market share. Respectively 4.1% next is Symbian, 3.2% is Windows Phone and 3.3% is Bada OS.
One of the biggest factors that make the Android OS is powerful is the dominant current in China is the world's largest smartphone market. In the last quarter, 81% of phones shipped in China using Android. Some are local products such as Huawei and ZTE.
"Resurrection of the top brands China due to several factors. Their quick reaction to market demand and in-depth understanding of local consumer habits to be the key to success," said Nicole Peng from Canalys.