Microsoft Surface tablet will launched on October 26th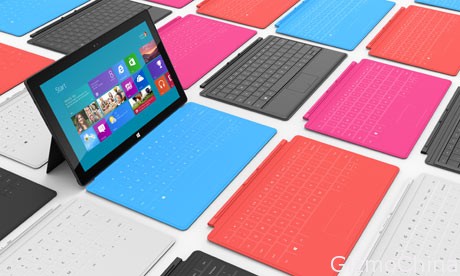 Microsoft has confirmed that the tablet Surface will be released with the new Microsoft operating system, Windows 8.
"The next version of our operating system, Windows 8, will be available on October 26, 2012. At that time we will begin selling its Surface following a number of hardware devices designed and manufactured by Microsoft," wrote the software giant in their annual report.

Previously, Microsoft had given indication that the Surface will be released in time close to Windows 8. Statement in the annual report is officially confirmed the news.
The version to be released on October 26 is the tablet surface that is running Windows RT powerded by ARM-based chiset..
The new Tablet Sutface "Pro" version which is more expensive and powered by Ivy Bridge-based processors will follow 90 days later, in early 2013.
Microsoft Surface officially states that the price will be announced before the release date. "The price is mor friendly with other tablet products based on ARM or Intel-based PC Ultrabook class."
A Swedish technology site displays the Windows RT Surface price are $950 USD.
In the annual report, Microsoft includes a disclaimer that it explains the successful whether or not Windows 8 depends on several factors such as the willingness of users to adapt to the new systems interface.