Review : Bluebo L100 smartphone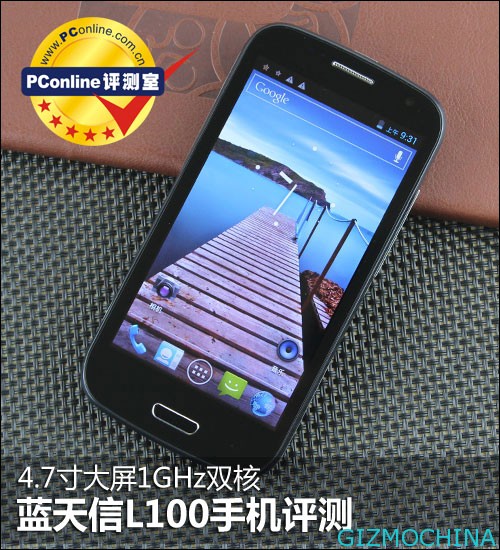 We've ever show you a Bluebo L100 smartphone, and now we have another review of Bluebo L100 the smartphone with MT6577 chipset.
The arrival of the MediaTek MT6577 processor let the smartphone market get into a low-cost dual-core era, the domestic manufacturers also have introduced products equipped with MT6577 dual-core processors, today I would want to introduce the smartphone with MT6577 chipset – The  Bluebo L100.

The Bluebo L100 smartphone has a 4.7-inch large screen size, while has different hardware specification. According to a manufacturer, this second model of the L100 will be pack by a 1280 × 720 with 720P high-definition screen, the memory will also be upgraded to 1GB RAM and 4G ROM configuration, the selling price of this machine is 999 yuan, while the second version of high-end model version is 1299 yuan, would be enhanced in the configuration case, the cost will be raised.
Specification of New version of Bluebo L100
CPU : MediaTek MT6577 1GHz dual-core
RAM : 512MB (high version is 1GB) / ROM 4G support memory card expansion
Screen : 4.7 inches 480 × 854 resolution of the IPS (high version is 1280x720p)
Camera : 8 megapixel rear + 1.3 megapixel front facing camera.
Operating system : Android4.0
Type of SIM card : Standard SIM card
Dimensions : 69.5 × 137.5 × 10.3mm
Battery : 2000mAh
Network standard : WCDMA / GSM dual card dual standby
The Bluebo Letter L100 uses a 4.7-inch large screen, the phone gives the first impression is narrow border black design also allows the smartphone looks great, and there is another white color version to make you look so cool and calm.
For some users, there is litlle problem to using 4.7-inch screen with one hands, thats regarding about the hands of user, the big screen sartphone can't operate using one hands while you biking or driving but in some country, texting or using the smarphone while you drive is not allowed. The body of this phone is long enough, but easly to grip in your hands.
There is no button on the lefside of the phone, in the right side you'll find the volume control key and the micro usb port, and the bottom of the corner has a small gap, facilitate the user to open the back cover.
Bluebo L100 smartphone support dual card dual standby, so the body set up within the two SIM card slots, memory card slot behind the SIM card slot, three card slots are attached to the edge of the battery compartment.
Screen test:
The Bluebo L100 has big 4.7 inches IPS screen display, the engineering prototype of the evaluation has 480 × 854 resolution, we understand that the full retail version will be 1280 × 720 with 720P HD screen capability, so The evaluation of this machine may not be different from the real model for the mass market, but thanks to the IPS material, good color performance, the piece of screen color display and viewing angle have shown the perfect results.
Bluebo L100 powered by Android 4.0 operating system, so this phone will be familiar for user since Android has intuitive and user friendly interface.
Notification bar on the top of the screen will inform you various information, while you slide-down this part, it will bring you to various management such as data connection, screen brightness, rotate screen options, WLAN and Bluetooth settings are included, it is very convenient.
Bluebo L100 support dual card dual standby, this will great feature for user to choose between varioous mobile provider in China such as China Mobile and China Unicom, so if you're business users you don't have to pull out another sim card to change to the another network for your communication activity. Voice call, video call, information data connectivity features has a custom settings to default SIM card, this greatly improves for smartphone with dual card dual standby.
This phone give you large screen thats mean you can also display more browsable menu and Internet, but unfortunately, the Internet browser still does not support the flash player to watch online video but you can install the appropriate plug-in for this.
Bluebo L100 smartphone equipped with a MediaTek MT6577 dual-core processor, while the memory has 512MB of RAM and 1 GB of ROM, the memory configurations, according to manufacturer, the officially release version will be using 1GB of RAM + 4 GB ROM, the memory performance may vary for users, so following the test results we can refer to.
Camera:
The Bluebo L100 packs with 8 megapixel auto focus camera on the rear, support touch focus interface so you just only touch the screen to make the better focus on your object, the camera feature is also has native systems which can be set relatively simple, such as basic white balance adjustment, viewfinder mode, exposure adjustment, ISO adjustment and so on, including more prominent features of HDR, the overall set is simple and practical.
Endurance Test
The evaluation machine that came with the battery and does not mark the battery capacity and a number of relevant parameters, specific endurance performance is not an accurate reference, according to official data, L100 will be equipped with a 2000mAh battery, while officially release this  cell phone hardware will be enhanced, so the specific battery life will change and different.
Summary:
Bluebo L100 is powered by MT6577 chipset, 1GHz dual-core with A9 architecture, this phone has a nice performance and equipped with 720P high-definition screen. With 1GB of RAM and 4 GB of ROM this phone will brings you perfect smartphone for your daily basis. If you want to take this pone, please visit Android-sale.com for order.