Book-style protective cover, will save your tablet from scratch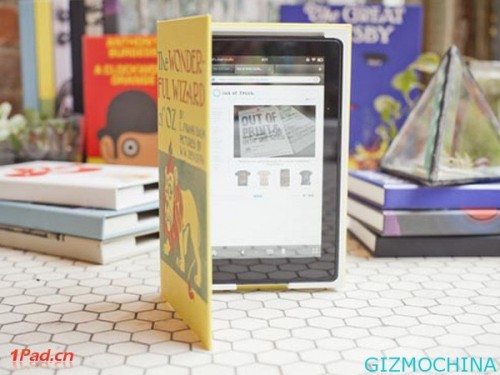 Have you ever happen, your tablet device is getting scratch when you put in your bag? Or maybe you are attract people around you when you read or using tablet device in public place?, maybe you need this cover.

Today, e-book more become popular, every one who has tablet device has atleast one e-book in thos tablet, I'm not talking about the what kind of e-Book format do you have, but may be one of tablet device has face to the worst scenario, when he/she put their tablet in the bags and find those tablet get scratch in the body or screen. Yess, you need a cover of course. But, the tablet's cover is too rigid or look like a techie-look, so some user avoid them.
Thanks to Kickstarter were make a new cover for iPad, iPad2 and Kindel Fire which has look-like regular book cover design. The designers hope that the book cover artwork designed not only will protective the device itself but may be able to attract more e-book users alike.
The overall specifications of the cover is molding with tablet size (for now only iPad, iPad 2 and Kindle Fire, but the manufacturer will launch for another brand), the internal design of the location to place the Tablet PC the size of the different products, made from cloth and safety for tablet's screen and body. In addition, this cover is user-friendly operation.
According to the official website the cover has $ 60 price tag for Kindle Fire, while $65 for the iPad 2 and the new iPad.