Sharp SH530U, Android smartphone equipped with MediaTek MT6577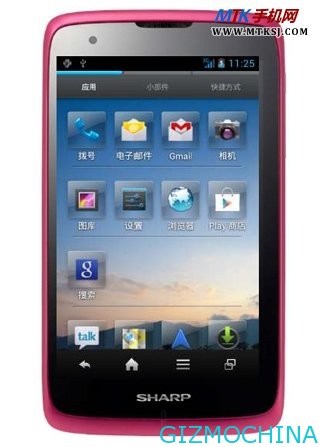 Sharp, is the one of electronic manufacturer from japan trying to atract user by developing Android smartphone, Sharp SH530U. Fortunately, that phone is powered by MediaTeK MTK MT 6577 dual-core processors.

As we all know, MediaTek is one of chip manufacturer from China and the will compete with Qualcomm. MediaTek offers high-quality chipset with affordable price. Maybe that's the reason why Sharp choose MT 6577 chipset on their smartphone.
Sharp SH530U equipped with MediaTek MT 6577 dual-core processor, the CPU frequency is 1Ghz, while the phone memory has 512MB of RAM and 4GB of ROM, that phone has 5.0 inch large screen with 480 x 800 pixel, sports with 5 megapixel camera on the rear and 3 megapixel front-facing camera and the battery capacity is 1,930 mAh, running Android 4.0 system.
While we write this news, there is no information about release date and price of this phone, but I'm sure, the Sharp SH530U is not too expencsive.
MediaTek Inc. is a fabless semiconductor company, designing and selling components for wireless communication, optical storage, GPS, high-definition digital TV and DVD products. The company was founded on May 28, 1997. It is headquartered in Hsinchu Science Park located in Hsinchu, Taiwan, with sales and research subsidiaries in mainland China, Singapore, India, Japan, South Korea, USA, Denmark, and England.