Thousand of students forced work at Foxconn for handle iPhone 5 production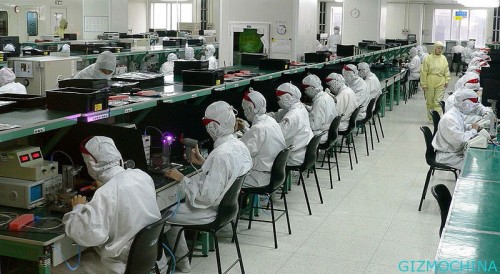 Shanghai Daily reported that thousands of students in China have been forced to work on an assembly plant owned by Foxconn after a wide range of classroom lecture canceled at the beginning of the semester.

The plant is reportedly difficult to obtain a sufficient number of workers to meet the production demands of the Apple iPhone 5, and Foxconn immediately seek assistance from their partner with universities.
The students have started to work on Thursday (September 6th 2012) and get a salary of 1550 yuan per month for a 6 day work, where each day they have to work for 12 hours.
One student who don't want to be identified said that the local government has ordered universities to help Foxconn, but the manufacturer did not provide information about the activity on the parents of the students, did not even ask for their approval at all.
Another student also explained that they are difficult to get out of the situation, because the university threatened to punish the students who tried to run away leaving the factory. Some also worried that the university would be boycotting their studies and complicate the process of graduation if the student took the initiative to sue the university.
The teachers from local schools to admit at China National Radio that the regular teaching and learning activities will be closed about 1-2 months, but they argued that the 'apprenticeship' is intended to give students a 'real-world work experience and to improve the quality of individual. '
Are you currently still a student? Are you still interested in getting an iPhone 5 after reading this news?