MediaTek MT6588 vs Qualcomm MSM8225Q / 8265Q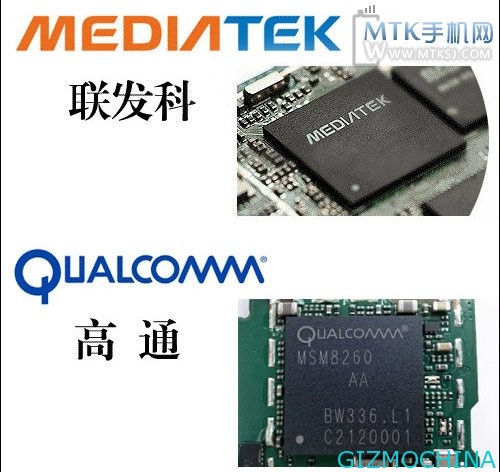 After we have covered the news about MediaTek and Qualcomm compete to make cheaper quad-core chipset, its seem the war is begin in chipmaker and now MediaTek is become real competitor more most chipmaker, since MediaTek offers high-end chipset with affordable price.

MediaTek has been released release of A9 dual-core architecture with their MT6577 processor, pass out the first quarter of next year will launch quad-core processor which called MTK6588, but now the MT6588 chipset has ready for the market in the end of this year, there are few smartphone manufacturer who ready to using this chipset, one of them is Gionee which ready to launch their new smartphone on first quarter of next year.
While Qualcomm has been launched two new quad-core processors Qualcomm Snapdragon S4 "MSM8225Q" and "MSM8625Q", both processor is dedicated for mobile device and using four core chipset while we know about the upgraded version of the first quarter of next year is expected to sale in the market, the same main low-end $ 100 to $ 200 quad-core smart phone. MSM8225Q support UMTS (WCDMA) network, while MSM8625Q supports both UMTS and CDMA network. Obviously, the high-pass move also aimed at with MediaTek in the low-end quad-core on a showdown.
Today we look at a MediaTek MTK6588 and Qualcomm MSM8225Q/8625Q, a simple comparison between both chipset. You can see the table below: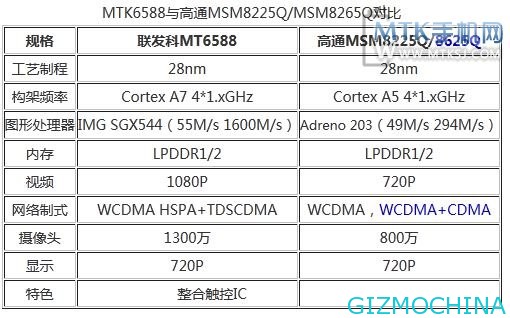 1. The process
The MTK MT6588 Qualcomm MSM8225Q/8625Q, on process technology and are based on 28-nanometer technology, that both chipset using the same design..
Architecture on the frequency architecture, MT6588 Cortex A7 structure, to further reduce power consumption, more conducive to mobile phone power saving, the rumors says the chipset running at 1.7GHz clock speed, while the 8225Q/8625Q is A5 architecture, obviously MT6588 threat posed large.
3, GPU
MT6588 is equipped with SGX 544 GPU, the PowerVR SGX5XT family SGX544 is currently the top model with a 4-threaded core mobile graphics module, while supporting up to 16 cores; it not only supports DirectX 9 also supports OpenGL 2.1, OpenGL ES of 1.1/2.0, OpenGV 1.1 and OpenCL 1.1 Technical comprehensive support for Microsoft DirectX 9 and multi-processor. SGX544 2.5 times faster than the predecessor SGX540 graphics processing power, able to support three display outputs also support HDMI 3D output triangular output rate 55M / S, pixel fill rate for the 1600M / S.
While the the Qualcomm MSM8225Q/8625Q graphics processor still continues the MSM8225 the GPU, still in Adreno 203 rate of 49M / S and 294M / S the triangle input rate and pixel fill rate the graphics processor, MT6588 and MSM8225Q far distance.
4. Memory aspects, both to support LPDDRI with LPDDR2 memory, speed (frequency) of up to 1066Mbps.
5. video, video playback and decoding, MT6588 supports FULL HD 1080P video recording and playback, while MSM8225Q/8625Q only support 720P.
6. The screen support for both chipset; MT6588 and MSM8225Q/8625Q support for HD-level resolution of 1280 x 800.
7. Network support standard in the above, we already know the The dual card MSM8225Q/8625Q support, 8225Q supports WCDMA, while 8625Q to supporting both WCDMA and CDMA network, while MediaTek MTK6588 also supports dual card, support both WCDMA and TDSCDMA Network.
8. Pixels of the camera support: MT6588 supports 13MP camera, while MSM8225Q/8625Q only support 8MP camera.
MTK phone network Summary: pass on more than simple contrast, believe that the stronger ones defended people's hearts have care about architecture, GPU, video camera, MTK6588 MSM8225Q/8625Q two quad-core processors can not compete based on cost control architecture, MT6588 slightly inferior to the other mainstream quad-core processor architecture, but would be a low power advantages. The pricing of both are about $ 100 to $ 200 range of low-cost smartphone this is significant gap between the price.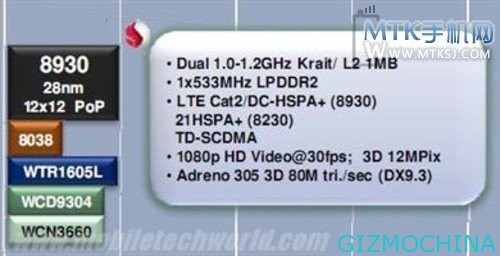 MT6588 is become the real rival for Qualcomm, while Qualcomm is preparing their new S4 Plus MSM8930, PLUS higher level compared to the S4 PLAY Department of chips, the Qualcomm MSM8930 same using 28 nanometer process four core, the main features is support both WCDMA, TDSCDMA, CDMA three major network standard, supports 1080P video decoding and Adreno 305 graphics processor with integrated LTE, but is estimated about the price will be higher than MSM8225Q/8625Q chipset.
High through the release of three new chips, in addition to to boycott the MediaTek nuclear MT6588 dual-core MT6583 also intended to force low-end quad-core smartphone With Texas Instruments exit, smart phone chip market structure is increasingly clear . MediaTek and Qualcomm's low-cost launch quad-core processor, bound to the country using other platforms quad-core smartphone enormous impact thousands of quad-core machine era has finally arrived.