MTK MT6589 Quad-Core Processor, What Is Difference?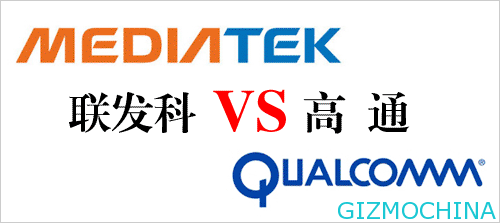 MediaTek was founded in 1997, is the world's leading professional chipset design company. Flourished during functional machine, MediaTek, with low-cost solutions for functional machine created a cottage industry in Shenzhen, even caused by direct impact on the world's leading smartphone manufacturers.

The rise of smartphone, due to mistakes in decision making on the route, MediaTek start becoming downturn. Fortunately, the high-rise in a timely manner to reverse direction, launch Android system MT6575 / 6577 and other products, once again to gain market acceptance.
MediaTek virtue of "Turkey-Solution" this "nanny" chips and software integration, significantly lowering the technical threshold of smartphone Research & Development, to attract a large number of mobile phone manufacturer companies, smartphone manufacturers a MediaTek chip platform-based development of mobile. This practice from the era of functional machine continues to be a major feature.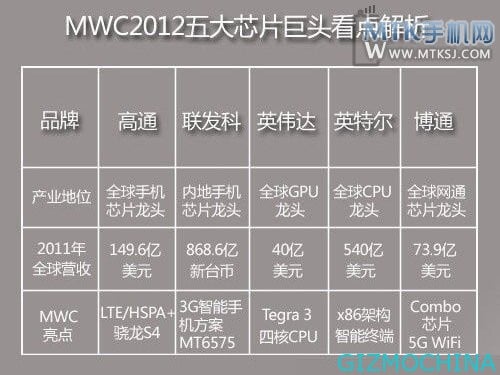 Qualcomm and NVidia manufacturers have introduced a quad-core chipset, MediaTek also speed up the research and development of rhythm, recently named through a foreign MT6589 chip quad-core architecture, the fastest production expected next year. It is reported, MT6589 MT6588 said before, for some reason, changed its name, but in general should be less.
Here is the parameter Introduction:
MTK6589
Architecture: Cortex-A7 quad-core process: 28nm
Frequency: 1.0GHz ~ 1.2GHz
Memory: to support LDDR2 memory screen: support 720P display resolution
Network: Support WCDMA / double TDSCDMA network
Video: Support 1080P video decoding support HDMI 3D output
Camera: support up to 13 megapixels camera
GPU: PowerVR SGX 544, triangular output rate of 55M / S pixel fill rate for the 1600M / S
ARM Cortex-A7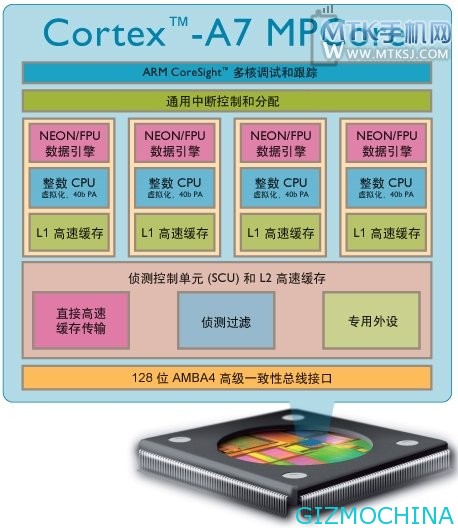 ARM Cortex-A7 processor is part of the Cortex-A series, based on the ARMv7-A architecture, it features provide excellent low-power performance is based on guaranteed performance. Cortex-A7 processor architecture and feature set is identical to the Cortex-A15 processor, different that the Cortex-A7 processor micro architecture is focused on providing the best energy efficiency, both processors in the big LITTLE configuration (size nuclear size core partner structure) work together to provide the ultimate combination of high performance and ultra-low power consumption. Five times the energy efficiency of a single Cortex-A7 processor ARM Cortex-A8 processor, the performance increase of 50%, and the size is only one-fifth of the latter.
GPU PowerVR SGX 544
The new generation of mobile graphics core the PowerVR SGX5XT (contains 530/535/540/543/544) is a fifth-generation PowerVR products. Adopt a unified architecture, support for DX9, SM3.0, OpenGL 2.0, still using advanced the TBR rendering mode, support H264 hardware decoding.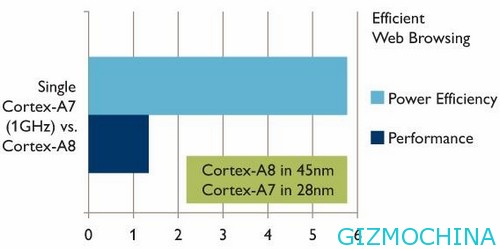 Single-core PowerVR SGX544 is part of the Imagination PowerVR Series5XT family, is the second member of the series, based on the Second Generation of scalable shaders (USSE2) support 2D, 3D, GPGPU processing, can be configured as a high-performance 4 pipeline can be flexibly configured to dual-core to 16 core (8-64 pipeline), but take into account the power consumption is generally not too practical application.
Product Positioning
Alternative MT6577 based on past experience, MT6589 will become the next mainstream configuration, the price will be in the $ 100 to $ 200, mainly for low-cost quad-core smart phone market. Products listed, will form a certain impact on the current quad-core pattern, further compression of the market price of the domestic smartphone.
In addition, Qualcomm also for the entry-level market to launch a MSM8225Q/8625Q processor, but it is A5 architecture, and the only support 720p video decoding, the performance advantage is not obvious, the threat of MT6589.
Application examples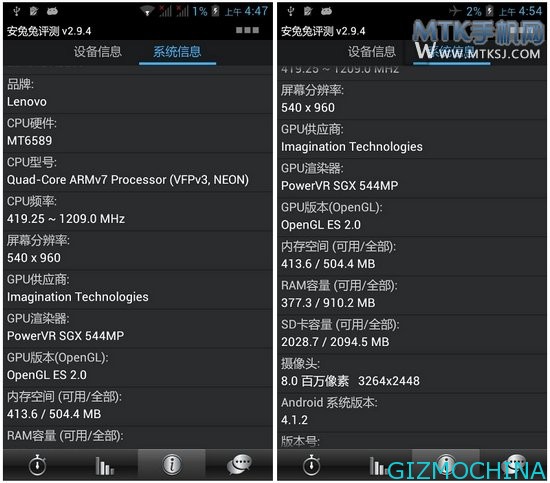 The recent exposure of a suspected MT6589 Lenovo's mobile phone, the specific model is unknown. Screenshots general can be seen, the design body is equipped with the MT6589 processor, the highest frequency of 1.2GHz, is a 300MHz graphics core SGX544MP has 1GB RAM memory, equipped with 960X540 resolution screen also supports TD-SCDMA, support dual card.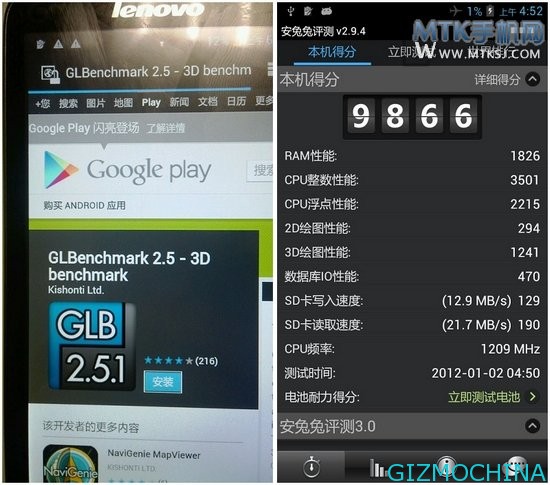 Rumored TCL phone and MediaTek is planning te built thr phone MTK6589 Quad-Core, and even possibly as early as listed in the association. Can imagine, the quad-core phone next year thousand price will become mainstream.