HTC X920e with 5-inch screen and waterproof Android smartphone scored Exposure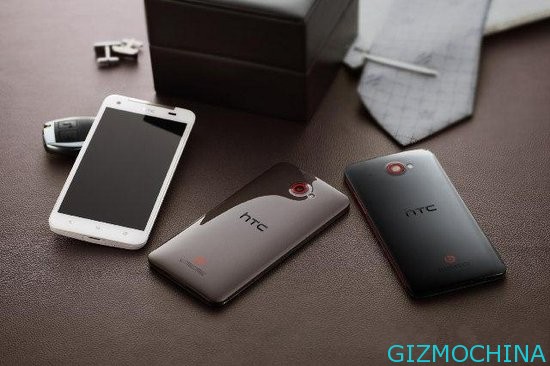 The new Android smartphone came from HTC, equiped with a 5-inch Full HD touch screen as the first, HTC X920e will soon officially released early next month. Now, not only on the network broke a run sub-scores of the machine, and more disclosure of the news, HTC X920e landing the domestic market will be in late December, the price of the phone is expected not more than 5,000 yuan.

Runs scored Exposure
Run sub-scores exposure from the microblogging view HTC X920e running sub achievements reached 14,322 points, much higher compared to the quad-core models HTC One X which got 11772 Score. As for the scores, do not rule out that there are two reasons. The first smartphone are equipped with the new version Android 4.1.1 system and HTC Sense 4+ interface; built-in 1.5GHz Qualcomm the S4 Pro APQ8064 quad-core processor is the better part of the performance, simultaneously 2GB of RAM capacity compared The past provides ample memory to run.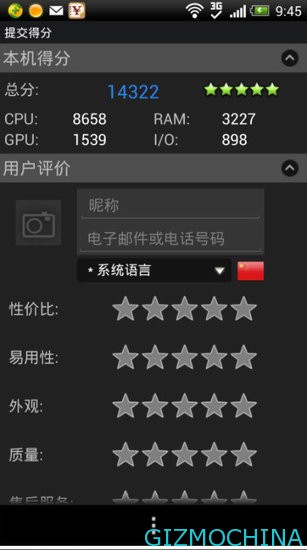 Of course, this phone is the most attractive place with a 5.0 inches FHD Full HD Super LCD touch screen, it brings 1080p (1920 × 1080 pixels) resolution and 400ppi pixel density display more nice than the retina screen.
Support waterpoof function
It is worth noting that HTC X920e not only using the second generation of Corning Gorilla (Gorilla Glass 2) glass covers the entire touch panel, but also the introduction of the Japanese version has waterproof, waterproof rating IPX5 can withstand low pressure The wc impact without damage. May not be able to like the Xperia Acro S Sony family, as the phone is fully soak into the water, but IPX5 protective performance can be very practical for everyday use waterproof protection.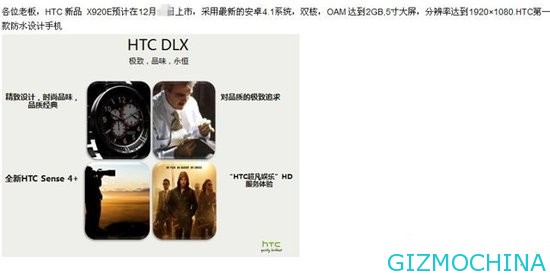 HTC X920e also offers excellent camera features a 2.1 megapixel front camera and 800-megapixel main camera, loading large aperture f2.0 lens and ImageChip image chip, front and rear cameras all support 1080p full HD video recording. 8 megapixel main lens of the smartphone also used the BSI back-illuminated photosensitive components, HTC ImageChip and F2.0 large aperture and a 28mm wide-angle lens, 1080p full HD video recording and side recorded shot function, and 4 per second continuous shooting function.
Went on sale in late December
HTC X920e also supports Beats Audio sound, HDMI output (MHL), Bluetooth 4.0 technology, dual microphone noise reduction, as well as wireless charging functions. It is reported that the aircraft will be in the December 6 released in Beijing, the official name of the mobile phone is the HTC DLX (aka HTC Deluxe Model HTC X920e) will be black, white, brown three colors optional.
According to information by the part of the dealer, licensed version of HTC DLX open will be held in late December to sell, As for the price of mobile phones is expected to more than 5,000 yuan.