Onda V972, 12.5 inch quad-core tablet will announced on Dec 5th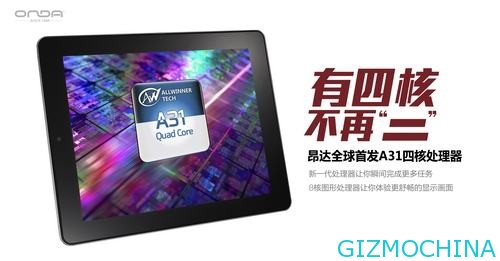 The one of Chinesse electronic manufacturer, Onda, will held a conference in Guangzhou on December 5th, 2012. The conference will introduce of their ARM-based processor new tablet devices Onda A31 quad-core tablet. The new device will equipped the latest ARM A7 quad-core processor.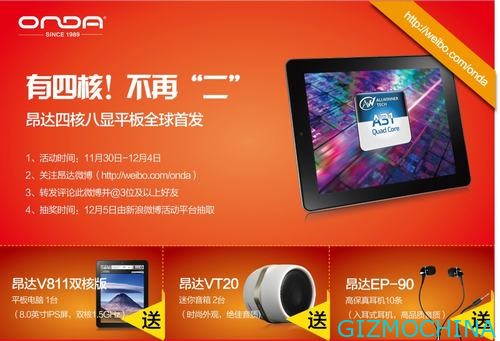 Meanwhile, the world's first quad-core tablet PCs based strong processor "Onda V972 quad-core version of" Onda full quad-core series new flat will also be at the conference site officially released. Onda, ARM joined forces, will bring the Chinese tablet round leap of the moment, look forward to it!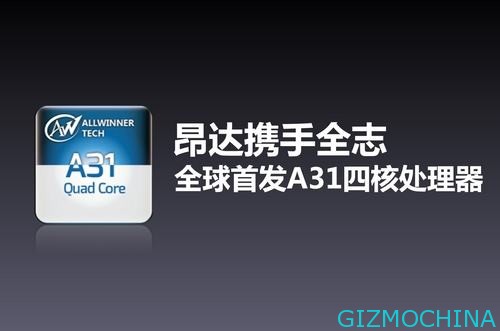 Onda tablet cordially invite tablet gamers and tablet enthusiasts, the first time up close experience from Onda quad-core tablet is the new leap of quad-core innovation!. And you'll watching of the first quad-core tablet this exciting moment, you will also get the opportunity of the on-site gift first to half-price or free trial the first A31 quad-core tablet "Onda V972 Quad-Core". You can quickly signed up here and ready for December 5, 2012, in Guangzhou
On December 5th, Onda will held the world premiere of A31 ARM quad-core tablet "Onda V972 quad-core", November 30-December 4, Onda microblogging "Onda quad-core world premiere countdown" prizes forwarding activities, so that we work together to witness the moment of revolutionary leap Tablet PC. From now on, as long as you follow @Onda microblogging, and forward three friends can access Onda Tablet speakers, high-quality headphones and other luxury prizes! Wow it's nice offers right?
The new architecture of A31 quad-core processor, brings huge performance leap, power consumption and heat compared with the current mainstream dual-core processor and quad-core processor is greatly reduced. Onda for the first time with up to 1M of L2 cache, as if the processor on the highway, there is no bandwidth limitations, will bring more than 2 times the data processing, transmission speed, and significantly enhance the tablet experience.
Retina screen will allow you to play 3D games with perfect screen viewing, Onda spend huge sums of money to have chosen the world's most top Imagination 8-core PowerVR SGX544 graphics chipset. Apple iPad series uses the same PowerVR GPU. 8 display engine, the pixel fill rate up to 3000M/S, up to 100M/S triangle rendering also. Overall performance than the same quad-core Tegra 3 200% more faster than the iPad 2 and 150% more faster than the New iPad.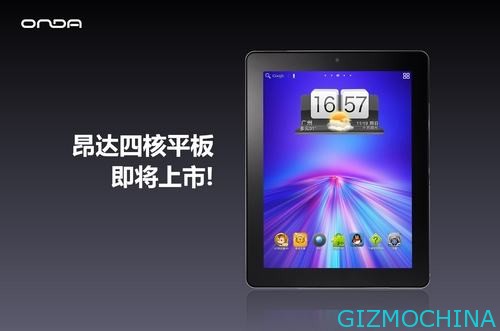 The officially release of Onda V972 quad-core is the most outstanding domestic flat-panel, is also the world's first tablet with built-in A31 quad-core processor Tablet PC. The "Onda V972 quad-core version is the fresh new look will bring the world's top level, it is designed by internationally renowned studio effort, comprehensive subversion previous Tablet PC mediocre, dull stereotype.
It blade version of the ultra-thin body, the world's leading integrated molding manufacturing process, the top perfect combination. In addition to the stunning appearance of chip performance, Onda V972 quad-core version of built-in with New iPad 9.7-inch retina screen technology. Powerful quad-core performance, a clearer screen, better configuration, will bring exceptional tablet experience.
For such a powerful performance, the details information from this quad-core tablet will bring more surprises, all the answers will be exposed on December 5th round announced in Guangzhou!