Cube Released New Quad-core Tablet With Rockchip RK3188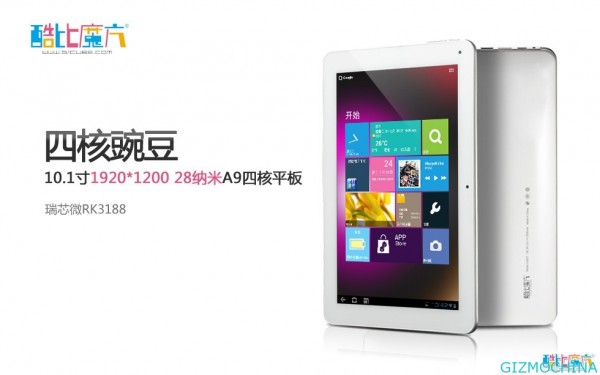 On December 4th, 2012, One of Chinesse electronic manufacturer CUBE has been introducing Cuber tablet device which powered by Rockchip RK3188 processor.

This tablet is becoming more interesting tablet since this new Cube smartphone also powered by Quad-core  28 nm chipset from Rockchip through RK3188 processor. RK next generation of A9 UHF quad-core the flagship master and host strong released!
There is a website who covered the news with Liveblogging method, which follow the launching of Cube tablet while this device is launching at 10:00 am today.
CUBE & Rockchip 28 nm 1920 * 1200 A9 quad-core artifact of the whole network conference, 4G-LTE high-speed communication interface will support data transfer rates of up to 480Mbps, the existing common interface to improve more than 100 times!
All secret, please pay attention to the microblogging @ Shenzhen CUBE brands
Live microblogging look forward to your participation concern
Very grateful to you for your attention, CUBE as a leading Tablet PC brand in China, and constantly improve their own products, released this with RK Rockchip RK3188, China's first 28-nanometer core master chip, is a Chinese independent development, independent design, independent innovation initiative!
1, the international leading 28nm process
2, quad-core A9 architecture performance far exceeds the A7
3, high-speed InterChip USB interface, 4G – LTE perfect match
Unexpected ultra-low power consumption
The use of advanced 28nm process
1, specifically designed for mobile devices
2, longer battery life and more robust performance indicators
3, compared to 45nm LP SoC low-power technology, new process performance increase of 55%, 60% power savings
Enhance the transistor switching speed gate leakage reduction lower gate capacitance
A9 super performance A7! 28nm A9 nuclear = 40nm two A7 nuclear
A9 computing power super A7 35%
A9 execute four instructions at a time, A7 can only perform two
A9 than the A7 the op-speed per second high 600,000 floating-point; quad-core, 2.4 million high-operand
With out-of-order execution architecture ARM A9, A7 does not have
More introduction, let you know, A9 strong performance in the A7
Advance into the 4G era, RK3188 provide the latest high-speed communication interface, the priority for connection 4G (LTE FDD / TD-LTE), 3G module, ultra-high-speed data transmission, so as you open the door of the high-speed Internet access, early entry into 4G era, to achieve the most perfect data transmission experience.
The high-speed communication interface supports data transfer rates of up to 480Mbps, existing general-purpose interface increased more than 100 times! This standard can run in the low CMOS level, and the interface is quite simple – only two cables. This standard can also save power by avoiding the use of analog components to minimize costs. High-speed transmission power consumption is only 16mW, the USB2.0 fifth.
28nm than 40nm process power consumption savings of 20%
A9 quad-core tiled architecture, internal friction weakened
Games, videos, web browsing, data transfer, low power consumption 40%