Intel announces Haswell and Bay Trail processor for Tablet and Ultrabook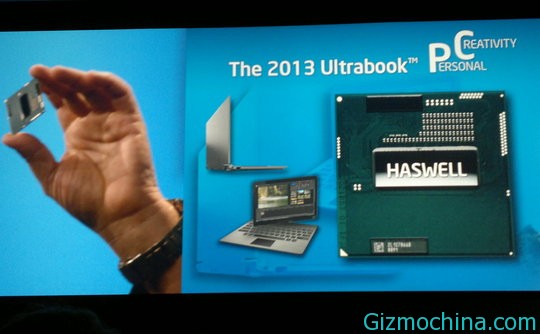 Intel announced several new chip at the CES 2013. In addition to Lexington, Intel also introduced the chip in between Haswell and Bay Trail, which is intended for the Ultrabook and Android tablet.

Haswell is Intel's new product into the limelight. Processor Intel Core architecture is intended for devices based on Windows 8. Haswell promised to provide all-day battery life to ultrabook, about 9 hours for continuous use. Intel requires taking Haswell ultrabook to use touch interface.
Besides Haswell, Intel also announced the Bay Trail Atom processor 22nm quad-core SoC. Bay Trail is intended for Windows 8 tablet devices and Android. Intel calls the Bay Trail Atom processor best performance to date with more than double the performance offered by a tablet processors available today.
Bay Trail can be implemented into a device that has a thinness to 8 millimeters. Intel promises processors have battery life standby all day and be in a matter of weeks. Bay Trail processor will be available in the fourth quarter of 2013.
For ultrabook and tablet, Intel also announced a low-power version of Ivy Bridge processors. This processor requires only 7 watts of power operations and is intended to reduce the demand on battery power is needed so that the device can be thinner and lighter. According to Intel, there are some designs that are being developed.