Lenovo K900 vs Samsung Galaxy Note 2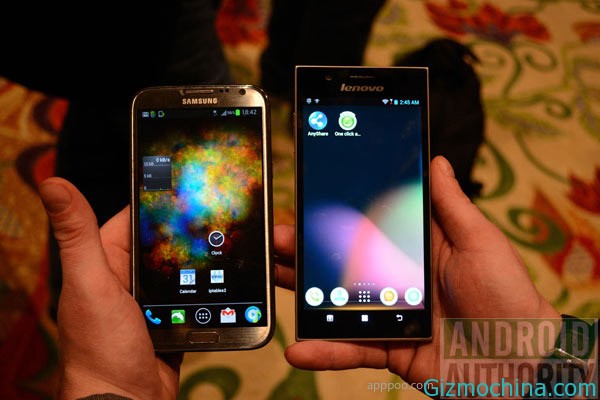 At CES 2013 we can see the smartphone manufacturer promote their products, and they showing their flagship smartphone with lots of feature.
On that event, there are the reports about a brief comparison between Lenovo K900 and Samsung Galaxy Note 2, For a while now, the Lenovo IdeaPhone K900 is the newer products that's not available pn the market yet while the Samsung galaxy Note 2 is the big products and popular smartphone in the market today.

Let's take a look at the two-machine configuration comparison: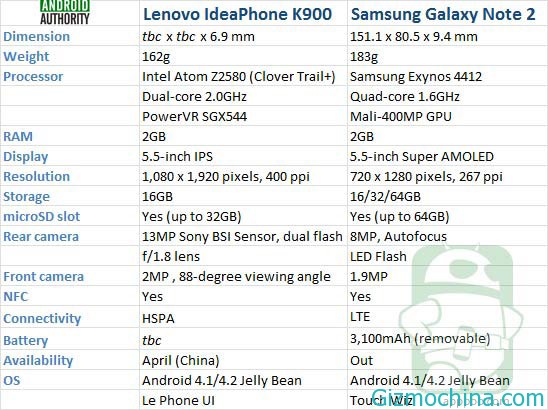 We can see on the table above, that the Lenovo K900 is cooperation with Intel that launched the second generation of x86 smartphone chipset based-on Intel dual-core ATOM Z2580 processor, integrated SGX544-MP2 dual-core GPU memory to 2GB, also sports with 16GB of flash memory, support for expandable the memory through microSD slot, equipped with 13 megapixel main camera which head the maximum aperture of f1.8, 2 megapixel front-facing camera with maximum aperture of f2.0. The screen is equipped with 5.5 inches with 1080p capability, the whole thickness is only 6.9mm. Previously exposed running benchmark test with 30,000 test points.
While Samsung Galaxy Note II has equipped with 5.5-inch Super AMOLED screen, a resolution of WXGA+ with 1280 x 720 pixel resoluiton, powered with its own Exynos 4412 cortex-A9 quad-core processor, built-in 2GB of RAM, support for 4G network connection to run points in the previous relevant evaluation score 13,500 points.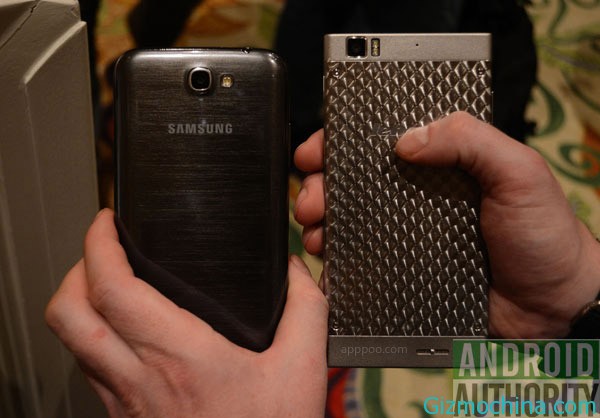 Android Authority that advantages of Lenovo IdeaPhone K900 is:
5.5-inch full HD screen thin, tough shape to switch to the native Android OS interface
Lenovo IdeaPhone K900 shortcomings:
Battery capacity is unknown do not know when to market without LTE
Samsung Galaxy Note 2 advantages:
5.5-inch screen
S Pen
S Pen dedicated more application software optimization
Samsung Galaxy Note 2 shortcomings:
Resolution is only 720p, 264 ppi
Non-contract machine still expensive