ZOPPO ZP600 Libero 3D heading to market this month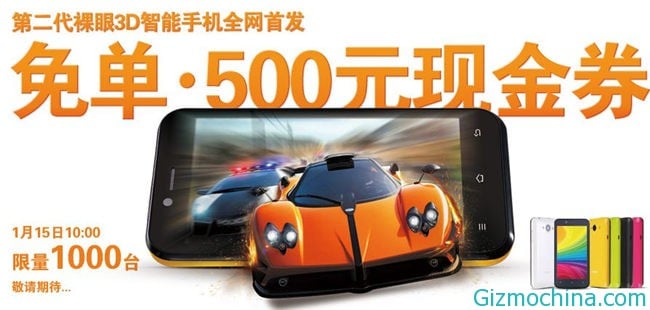 back on march 2012, Zoppo has been unveiled their flaghsip smartphone ZP200 which is the 3D smartphone that can be seen without special 3D glasses. And now they ready to introducing their Zoppo ZP600 Libero 3D which has the same ability and feature but packs with more nice specs.

According to the news, Zoppo will ready release the ZOPPO ZP600 in January 15th. The user can participate in official events in the near future, then relief of 500 yuan cash coupon or equal with $80 USD for first 1000 people, but at this moment there is no official announcement for Libero 3D exact prices.
ZOPPO ZP600 as the second generation of the glass-less 3D smartphone, in 3D mode you can set the phonen in a new 3D camera, 2D/3D one key switch function, and built-in professional 3D video player, innovative visual grating technology even if the phone 3D theater-like shock visual experience, you can feel and provides numerous 3D resources in the official website. The ZP600 also supports MHL definition output, can be connected to other display devices to share with family and friends.
ZOPPO ZP600 Libero 3D will be equipped with a 1GHz Cortex-A9 dual-core processor from MTK6577 platform, sports with 1GB of RAM and 4GB internal memory, upgradable to 32GB through external storage.
This phones is use Sharp ASV screen as same as with ZP200 with 4.3 inches 3D LCD screen (without glasses), the resolution is the same with QHD 960 x 540 level. Packs with 2 megapixel camera and 8 megapixel rear facing camera with flash light, the ZP600 running Android 4.0 Ice Cream Sandwich operating systems
Editor Comments: For friends who like 3D smartphone will be like ZOPPO ZP600, ths phone has range of the price concentrated between $160 – $320 USD, but we have to wait about the exact price untill January 15th.