Huawei Ascend Mate the 6.1-inch phablet price exposure with $575 USD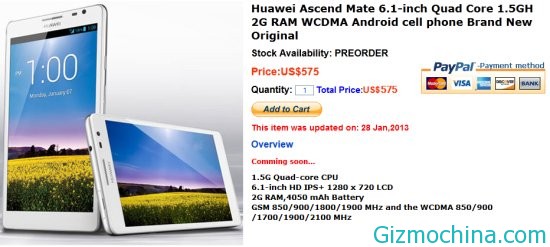 Huawei Ascend Mate is the phablet device which packs with 6.1 inches display. And today we got the new information about the price exposure from the mall, this machine will be on sale a month later and is priced at $ 575 USD (or about 3500 yuan).

The Huawei Ascend Mate 6.1-inch display is very powerful, sports with 241 ppi pixel density, its value is much less than 5 inches the Huawei Ascend D2 which has 441ppi pixel density.
However, Ascend Mate with a capacity of up to 4050 mA battery, so you never have to worry about the phone's battery life a matter of time. This is even better than the Motorola DROID RAZR MAXX HD which powered by 3300 mAh battery capacity the Huawei has more 750 mAh larger.
Huawei Ascend Mate has a narrow border design, display accounted for 73% of the area of ​​the entire body, 9.9 mm thickness of the whole machine looks very slim. It is worth mentioning that the Ascend Mate's screen uses a special design, even if the in outdoor cold winter, wear gloves Ascend Mate can manipulate. In addition, the dial-up interface and virtual QWERTY keyboard has also been optimized, even small hands can also easily one-handed use.

Maybe you remember, Huawei CEO Yu Chengdong has said that The Ascend Mate should be listed in December last year, with HTC's CEO Peter Chou anniversary show M7, both taken a high-profile announced their flagship model time-to-market behavior. Why is this? Samsung Galaxy Note III looks rumors recently outside with 6.3 inches, while Sony will be branded their new smartphone with 6.44 inch but all those products are not unrelated.
So we have to wait until Mobile World Congress thats helds in Barcelona this month.