Samsung Galaxy S IV benchmark score exposure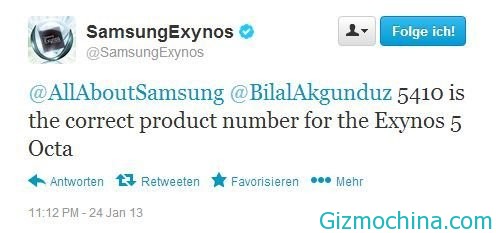 We all know about the Samsung is planning to unveiled their new flagship smarpthone Samsung Galaxy S4, but now we've got the information about the score of Benchmark test from Samsung Galaxy S IV device.

According to AnTuTu Benchamark software, the new Samsung GALAXY S IV is equipped with a 4.99 inches  FHD resolution touch screen, and built-in 1.8GHz Samsung Exynos 5410 eight-core processor, as GPU compared with PowerVR SGX 544MP.
Equipped with eight-core processors
In past reports, there is a variety of rumor about the Samsung GALAXY S IV processor configuration, including the use of Qualcomm Snapdragon 600 processor. The latest data based on the AnTuTu Benchmark apps given the Samsung is powered by teir own Orion Exynos 5410 eight-core processor, clocked at up to 1.8GHz.
Orion Exynos 5410 models relative to seem strange, but the Samsung official has confirmed on Twitter that the processor does for one of the Exynos 5 OCTA eight-core processor family. The features will have four Cortex A15 core + four Cortex A7 core architecture combination, can take advantage of the performance of the Cortex-A15 processor to bear the heavy work load, Cortex-A7 can be the most effective way to deal with some of the daily Application.
GPU configurations leaked
Samsung GALAXy S IV is powered by PowerVR SGX 544 chipset GPU. Accordance with the relevant information on the GPU with a four-threaded core mobile graphics module, while supporting up to 16 cores and graphics processing capability by 2.5 times than previous model.
In addition, AnTuTu Benchmark also confirmed that naswer many recently rumors such as the smartphone is packedwith a 4.99-inch FHD (1920 × 1080 pixels) resolution touch screen, running Android 4.2 Jelly Bean operating system, support for Bluetooth 4.0 technology and NFC, electronic compass and gravity/distance/light sensor functions.
Network information exposure.
Samsung GALAXY SIV also using a dual-camera configuration, with a 2.1 megapixel front-facing BSI lens and 13 megapixel main lens with a BSI sensor and support for more camera features. In addition to providing a 2GB of RAM, Samsung GALAXY SIV will also provide storage space of 16GB and 32GB optional.
It is worth mentioning that the exposure of a model of the network run scored for the Samsung SCH-i959. It displays the contents of the information powered by Android 4.2.1 system, has also been confirmed and will be powered by the same 1.8GHz frequency processor and has a the FHD resolution of full HD touch screen configuration. Before Samsung GALAXY SIII telecommunications version of the model SCH-i939 Samsung SCH-i959 The leaked has been speculated for the upcoming telecom version of the Samsung GALAXY SIV.
It is reported that the Samsung GALAXY SIV phone model GT-i9500, and exposure invitation has confirmed that Samsung held a press conference in New York on March 14, for the official release.