Cool CUBE tablet with quad-core RK3188 chipset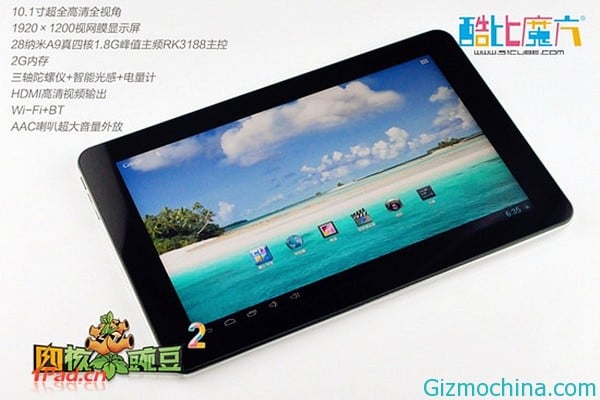 The one of Chinese tablet manufacturer, Cube has been unveiled their new tablet device, thats Cool CUBE with quad-core RK3188 chipset.

The new Cool CUBE tablet device is packed with 10.1 inch FHD screen display, sports with 2GB of RAM and 32 GB of storage, in addition with 2 megapixel front facing camera and 5 megapixel rear-facing camera.

The tablet is covered by nice design, the body is made from plastic cover with silver material on the edge, the whole texture of the paint technology is good! Of course, given the quality of the original industrial chain, packs with 5 megapixel rear camera to cope with the day-to-day take pictures to share enough. Quad-core peas 2 ACC oversized loud speaker volume than most flat larger.
From the above chart we can see that the cool Cube tablet is almost no different from the native Android interface than the Cube UI interface, does not reflect the mission alienation. Native Android UI is very nice and intuitive. The run points is 18,000+, but equipped with 28nm A9 quad-core chipset through Rockchip RK3188 plus 2GB of RAM, so the whole system is very smooth.
Summary: The main configuration, the tablet performance is very tough, with three-axis gyroscope, intelligent light sensor, anti-roll steel frame design and ACC oversized volume loud speaker added to the machine considerably! Strong configuration to ensure the fluency of the system, but in depth optimize.
Now cool Cubes offer a good market opportunities, limitations of consumers at that stage, but I believe that soon there will be a large number of equipped RK3188 four core domestic tablet market.