UMI S1, the cloning of HTC Butterfly and HTC Droid DNA smartphone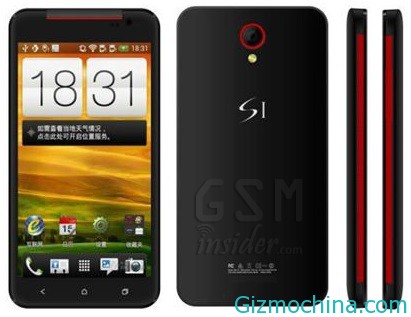 The popularity of HTC Butterfly and HTC Droid DNA has been influenza many smartphone maker in China, the one of smartphone manufacturer, UMI, is built the new UMI S1 smartphne which has similar design with HTC Butterfl and HTC Droid DNA.

The UMI S1 smartphone has 100% similar design with HTC Droid DNA or HTC Butterfly smartphone, including the color which has blackbody with red strip on the side of the body.
The phone has 5 inch touch screen and has 720p resolution, this phone is powered by Mediatek MT6589 1,2 Ghz quad-core processor, running new version of Android 4.2 Jelly Bean operating system.
The UMI S1 is also the mimic the original HTC Butterfly has 1GB ROM, 8MP rear camera, 2.2MP front camera and 2200mAh battery. Although there is no information on pricing and availability Umi S1 so far, but the price is Umi S1 will reportedly pegged much lower than the original HTC Butterfly.