Pre-order of Geak Watch was open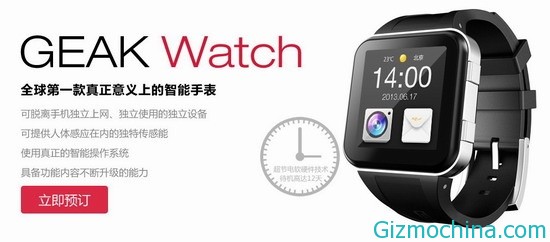 Shanda's shell electronic bulletin just released and update their website, thats announced about pre-order of Geak SmartWatch, the price is about 1999 yuan (or about $326.32 USD).

The first batch is only available for only 5000 units. According to the official website, the spechs Geak Watch configuration and specifications are describe as follows:
1.5 inch screen dsiplay
Running Android 4.1 Operating system
Built-in WiFi module
Bluetooth 4.0 technology
Enabling software download, system upgrades, and through interaction with the phone to achieve remote control camera functions
12 day standby times for one charge
In addition, the Geak is also release the Geak Smart Ring to pair with the Geak Phone through NFC, and the Geak Ring will be available in the market on July 8th which offers for 199 yuan or arounf $32 USD price.