The Grand Babook Tablet is now offers with 499 yuan ($ 81 USD)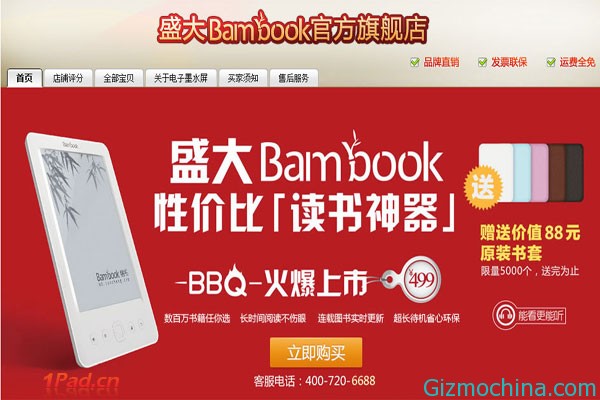 Since Amazon sell their eBook reader, is now the eBook reader device is more popular, icluding the domestic manufacturer is also built the eBook reader device, and the one of Chinese manufacturer is unveiled the Grand Bambook, eBook reder device.

Interestingly, this device is now sold by Sanda Network and they offers this eBook reader device just for 499 yuan or around $ 81 USD price per unit, This is the interesting price since eBook reader is becoming more popular.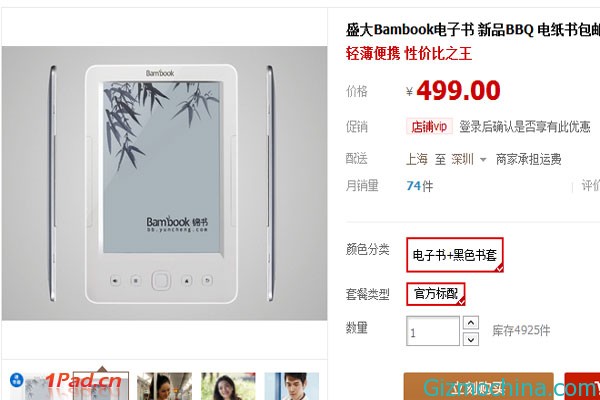 The new Grand Bambook "BBQ" device has packs with 6 inch screen size and 600 x 800 pixel resolution, this backed with e-Ink technology so the user can read the screen as seen as on the real papper, while the previous generation of this screen compared to a full page refresh rate improved by 100%, contrast increased by 70%.
Unfortunately, the screen is not support backlight, so you can't read on the dark environement. This Bambook eBook device is running Android operating system, built-in Wi-fi network, and added has own Bambook input method, this tablet is claimed can running on 23 day on single charge.
Another interesting point is the price, while we have mention above, this Grand Bambook BBQ tablet is oofers with only 499 yuan or around $81 USD, this will becoming the real competitor for Amazon Kindel eBook.