NO.1 N3, yet another 5.7 inch smartphone with MT6589T chipset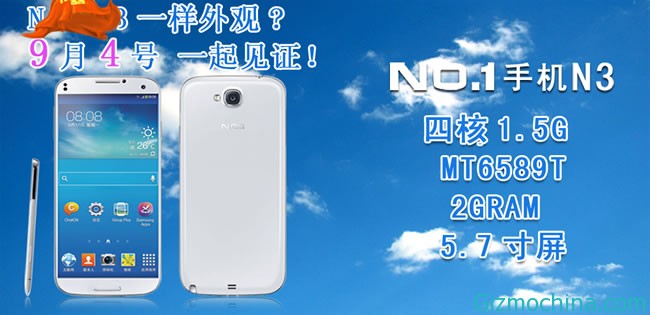 While for now, Samsung GALAXY Note III will is the upcoming smartphone from the Samsung, some folks believe that this phone will becoming the next flaghsip smartphone that come from Samsung and this phone will be show at IFA Conference (in Berlin, Germany International Consumer Electronics Show ), but now the domestic smartphone manufacturer is already releas the new NO.1 N3 Android smartphone.
The new NO.1 N3 Android smartphone is look similar with the GALAXY Note lineup, the NO.1 N3 smartphone has used is 5.7 inches or 5.99 inches screen size with 1080P Full HD screen and sports with quad-core processors from MediaTek.
NO.1 N3 new products will generally ready to launch on September 4th, is now able to see the official hang out related promotional images for NO.1 N3. According to the specs, the new NO.1 N3 screen is also packs with 5.7 inches screen size, but will not be the same as Galaxy Note 3 with full HD resolution is still unknown. Other specs of NO.1 N3 will be powered by 1.5GHz processor from Mediatek MT6589T quad-core processor, sports with 2GB of RAM, while the other specs is not revealed yet.
According to the rumors the machine may have a narrow frame design, equipped with a stylus, that really is the legendary for Galaxy Note lineup. Will be the NO.1 N3 becoming the new rival fro Samsung GALAXY Note?