The Meizu MX3 smartphone is officialy released!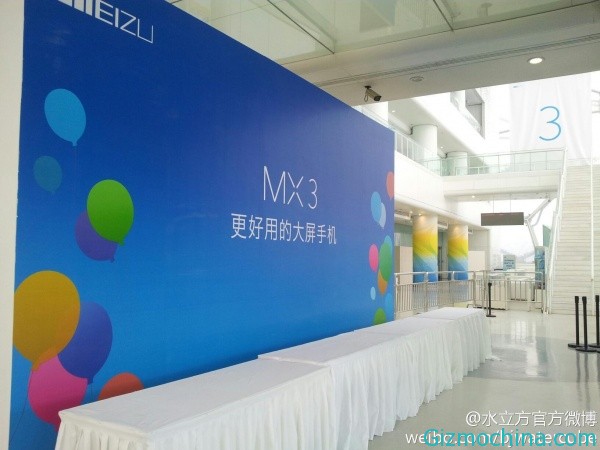 Today is the September 2nd, and this evening Meizu has been held the big event in the Beijing Water Cube, Meizu Technology has been unveield the long awaited flagship smartphone thats the Meizu MX3 asndroid smartphone.
In official and major media and retail stores teammates common "effort", the configuration of this product has actually been little secret, MX3 will bring some of the current domestic smart phone industry's most advanced hardware, for example, this phone will be equipped with 8 megapixel camera, using the Samsung Exynos 5410 processor and other equipment, the configuration table also has a "unique" startling 5.1-inch screen, and the rumors of a 1800×1080 wonderful resolution.
We are interesting to show you the crowded at the event through te picture that taken by CNBeta.com website below. MX3 conference is now over, the scene into the experience of links, thank you for watching.
MX3 price 2499!
2699 32GB
3099 64GB
3999 128GB
Unicom contract

2699 16G
2899 32G
3299 64G
Listed in late September 2013, the official website tonight, you can start booking MX3.
http://www.meizu.com/
Pricing to be announced
Connect To Meizu – Meizu will also cooperate with more manufacturers.
Online Cloud Album: Meizu and 360 cooperate in 2014Q1 release.
Online Video – Meizu and music as cooperation, genuine casual watch movies and TV shows.
Find Meizu phone more powerful, positioning, clear, and even remote control handset camera.
Unique in the industry – Meizu and pay treasure to achieve cooperation, able to intelligently identify premium SMS, directly to the mobile phone payment.
Meizu and Kara cooperation will support direct CUP cards, 2014 Q1 release.
Meizu and Sina integration, will be integrated messaging and private letters – Paoniu more convenient. Provides a special timeline, when met microblogging contacts – more concerned about the people around him.
Next comes online services, Meizu application downloads has exceeded 500 million times, with the pea pods cooperation, bringing 600,000 new games, Meizu + meters music online music brings 3 million songs.
Notes, Sketchpad function can also be upgraded. Other features see: WiFi Display, can send video to the TV, light 3 times faster response, 32GB and above models support NFC, Meizu MX3 design philosophy is not to follow suit, evolution is a continuous and coherent, the pursuit of long-term use comfort.
Camera upgrade – 13 kinds of real-time filters ! Calculator also been very interesting improvements, can float on top of any application.
And 3.0 upgrade supports more drag operation, documentation connected to the network drive on your PC or mobile phone can be like a mouse to drag the same, similar Meizu AirDrop.
Support the application of rights management, security permissions can set various functions on the phone plus a password to access on the PC, they also require a password.
Use gestures to manage multiple tasks, phone search feature to search and recently combo, dialing screen left and right can dial.
Flyme OS 3.0 desktop can be vertically sliding, support for more Apps all on one screen. Quick drag it to any page, collate the application is very simple.
Also, Meizu browser is fixed until the middle of the bottom bar, and now is finally Meizu browser can move up ……
MX3 screen area than the iPhone 5 more than 64%, MX3 on Flyme OS optimized for the big screen, a total of 1579 applications to adjust the screen, while also adding a lot of animation, receive mail, delete notes , landing wrong …… blah blah have animation.
Slide-return function, no lock screen, slide the screen to enter directly the main screen. There are many similar improvements, a total of 324.
Next comes down hover, Apple designers invented the rubber band effect of the drop-down screen, 2010 Twitter invented drag refresh the screen more and more today, Meizu more optimized this list, invented the "drop-down hover" . Let the content pulled down, and then click on the top of the content.
Another optimization – sliding menus, simply slide, you can exhale menu. Right slide – exhale; slide to the left to close. Flyme 3.0 Use of sideslip moved to the middle, and therefore more easy to use. They also began to use the card improve click accurate.
For the big screen for the user experience more support Meizu colors, allowing third-party applications to be customized, and, when the horizontal screen, Back and More'll move to the status bar!
Interaction on the improvements made for the big screen, the first point is upgraded SmartBar, GS4 only use one hand manipulation to 22%, while flyme 3.0 on, MX3 can reach 70%, Smart Bar save big screen. Today's SmartBar will learn, according to user habits for fine-tuning, minor adjustments as small as 10 pixels.
Here I will introduce Flyme OS and cloud services, content, first tucao of various 5-inch phone screen is big, easy to use you?
When the screen is increased to 5 inches when the button is difficult to use the system. How to solve? Meizu designed the new Flyme 3.0.
Next is the Meizu Nan, vice president of science and technology to introduce Flyme OS 3.0.
Nevertheless, MX3 logic is – forget the argument, "better use of the large screen mobile phone"!
Summary MX3 site now begin a series of highlights.
Eighth – return to music.
MX3 with British high-end Wolfson audio processor, 113dB SNR, 0.002% distortion, Direct HD optimized to achieve Hi-Fi level standards and enhance the headset acoustic performance. Independent Smart PA (formerly Philips), extroverted sound more loud, speaker also provides intelligent protection.
Intelligent 3MIC systems, more scenes can bring better call quality (MX2 for dual MIC system).
Supports Bluetooth 4.0, NFC, a new generation of GPS / Galileo, five kinds of sensors, intelligent dual-band Wi-Fi, support 5G/2.4G.
Next, the seventh – camera
MX3 shrunk camera used: Sony's third-generation back-illuminated 8,000,000 sensor unit pixel can absorb more light, higher signal to noise ratio, bringing more pure picture quality. 20 / second continuous shooting, 20 Photos 1 second to complete (the fastest Sony L36H, only 10fps).
F2.0 aperture, the amount of light increased by 21%, faster imaging, is not easy to shake, but also can be done to complete a large aperture macro bokeh.
Zero Latency image stabilization technology – before pressing the shutter 1/8 seconds to complete shooting pictures more easily.
Four-channel Fuji through ISP, the transfer speed is three times the previous generation, easily 24 full pixel preview, shot with 8k the OTP, the second generation of blue glass filter 29 layer coated lens plus new and second-generation Focus algorithm AWB 4.0 WB optimized.
Front camera upgrade to 2 million Sony back-illuminated.
The following sample is really ……
GPS antenna signal than the mainstream higher than 25%, Wi-Fi antenna and MX2 consistent. NFC reader from 45mm or more.
Metal frame of the antenna is a very serious challenge, MX3 how to solve this problem? MX3 antenna is surprisingly good.
MX3 in hand state band 3G signal strength has quadrupled, 2G 1800 band, 3.2 times stronger. And the signal of the human brain absorption rate of only 1/3.6 the iPhone, well below the national standards and American standards.
Cooling, MX3 use of separate dual cooling system, CPU heat quickly reach graphite aluminum alloy frame, you can quickly heat dissipation. LCD graphite heat through rapid diffusion of the other way, two-way line completely separated.
3G call 14 hours, 2G call 12 hours, 3G web browsing 9 hours, Wi-Fi browsing 10 hours, 1080p video playback 7 hours music playback for 40 hours up to 393 hours standby.
Of course, the easiest way is 2400mAh Sony battery, and the charge faster.
Learning backlight adjustment that allows mobile phones to learn the user's electricity consumption habits, keep in mind the needs of your mobile brightness.
Built-in screen memory, PSR-screen self-refresh technology, energy saving 20%. Generation 5G WiFi, download content more than 50% energy saving. Sensor Hub future technology utilizes a microprocessor instead of the main processor power management sensors, let the system more power.
High performance, energy saving how to do? Energy-saving technology, lasting life! A7 processor innate energy, pipeline only 8, monocyte area of ​​0.45 m2. 50% performance is only one fifth the size of the nucleus, with the A7 to ensure the endurance of ordinary computing, intelligent control to achieve the balance of performance and power consumption, complex applications using the A15 to achieve win-win situation.
8-core is faster! MX3 uses 8-core processor, Exynos 5 series processors, CPU performance 80%, 2M L2 cache oversized, 2GB dual-channel DDR3 100% faster, faster pixel effectively fills 85% faster 267% triangle formation.
Screen using TOL fit, strength and better, "The only drawback is the high cost" and the impact, but broke maintenance costs lie ……
MX3 16:9 display area is 107%, the screen is provided by Sharp and JDI New Mode 2 screen, and add color correction, which is preceded only Apple done, what color bias, use another color correction ensure the screen color accuracy. JDI by the Sony , Hitachi and Toshiba joint venture.
MX3 display parameter is 5.1 inches, 15:9 aspect ratio, 1800×1080 resolution, pixel density 415PPI, closer to the golden ratio, cut unwanted portions of 1080p.
Smart phones have evolved into the Internet era, mobile phone features only 25% less than 40% of the time is browsing the web, using a variety of applications, the large screen is particularly important.
iPhone 5 screen width 50mm, length 88.9mm, MX3 width of 66.1mm, Length 110.2mm. Browse iPhone, distance from the screen frequently glasses 200mm, MX3 can reach almost 350mm of distance from the screen, "to protect the eyes, with a large-screen phone" "If Apple is no longer the big screen, the mobile Internet is bound to be abandoned."
The following describes the body, surrounded by stainless steel surround, every detail crafted carapace texture and wear. The second generation Home touch buttons, not only the operation more simple, but elegant, "It makes a lot of manufacturers dumping" and "follow."
Meizu very concerned fuselage corners, MX3 fuselage corners very special, not a simple angle R is an angle formed through the three R corner, feel better. MX3 body length of only 139 mm, you can hold it comfortably with one hand. Weighs only 143g, very conveniently, prolonged use, it will not be tired. MX2 bigger screen than 20%, the battery big 35%. MX3 thickness of only 9.1mm, 21% thinner than the MX2.
Hand arc – through a lot of engineering prototype, developed by the arc is very special, but worse, two hours later, J.Wone said prototype did not feel old good results through 3D scanning study found that found MX3 prototype section Lines worse 0.07mm. To this end, decided to spend one million remodel.
"Greatly useful design '- J.wong yourself to create a 31 wooden hand version and then with the team, structural engineers have joined the creative process, which lasted three months of research and development to find the optimum size of the fuselage Balance point: body width not exceeding 72mm, after a demonstration, MX3 final width of 71.9mm, 71.9mm body width of the display can be put into how much it? monitor border 2.9mm, Meizu's narrow frame technology, global lead.
But all this is that the real purpose of the real aim – to maximize the screen. Screen width 66.1mm, is the second equilibrium point parameters, it makes little MX3 machine, but the screen is very large.
White always raises a question: I've tried used the Tablet PC and mobile phone market, larger screen, for a long time browsing the small screen phones, let me glasses very tired, and need both hands to operate the big screen seems very easy to use, how to solve Problem? This is today to introduce the MX3. Introduction of eight starts.
Meizu chief Bai Yongxiang debut, White will open MX3 total mystery. Published data, "3 years, 8 times," but the idea is always Meizu "products than commercial."
Moderator recalled last December 27, Meizu released MX2. Same here, Meizu will release MX3, do you like the product, to share the same favorite people.
Moderator say hello to everyone. "Use your hands and voice to tell us where you are?" Live on-site interaction.
Interaction design 13392 times, software adjustment 28,759 times, production line manufacturing adjustments 14 times.
Site moderator Tip conference is about to begin the countdown 10 under after warm up on the screen to start playing the video, describing the carpenter on the phone crafted process, various details of the pursuit of excellence in a variety show.
Turns on stage around the kerosene
Conference appears to be a delay, but it does not matter, Henan kerosene regiment raised banners, thunderous applause, the conference has not yet started and the atmosphere had become enthusiastic.
Live Schedule
Fans on a show ……
Small souvenirs
19:00 News Network started it
Has sat, about to begin, there is no …… sell seeds of soda?
Stage background, giant screen projection, which guests tonight, will be announced soon after.
Meizu officially announced tonight's two main characters: MX3 and Flyme 3.
Admission to the crowd in front of my sister and
Admission to prepare it. Meizu will look tonight what kind of surprise.
The conference will be the first field Youku video via live broadcast address here .
From the Water Cube is very near.
From the start of the conference, there are still less than an hour, the following is from a press conference held earlier in the images as well as the official Meizu to provide some slides, interpretations of their smartphones understanding.