Here is the 8 aspect before Apple launching the new products tomorrow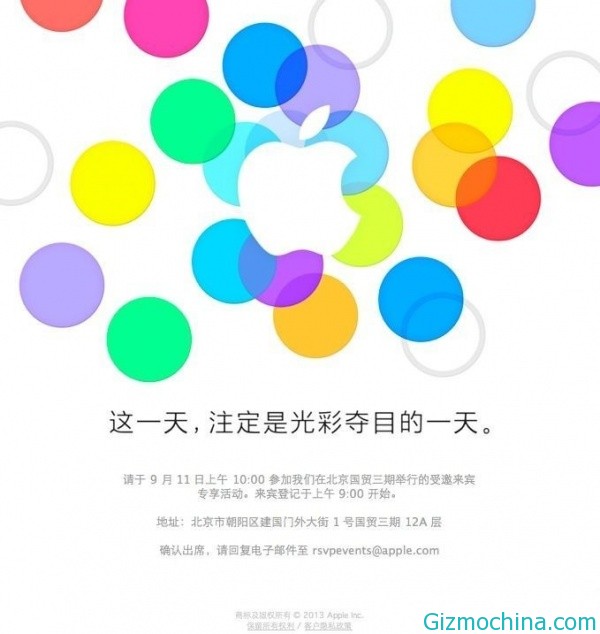 At 1:00 on September 11, Apple will held  a conference in California. As usual, Apple will launch in the autumn brought us many unexpected products. Conference in close proximity, the conference we saw what kind of surprise it?
Here is the aspects what about Apple launching tonight.
1 new iPhone Product: iPhone 5S/5C
The new iPhone, is the most anticipated of all Apple products. Apple iPhone has become the most profitable among the important part, how to attract more people to join the Apple family to become the apple daily topic. Not surprisingly, then, tomorrow, Apple will bring us two new products: the iPhone5S that for high-end market and the main low-end market iPhone5C.
iPhone5S in appearance continuation to iPhone5 aluminum body style, using 4.0-inch OGS retina screen, equipped with a new 64 A7 processor, 1GB RAM, F/2.0 large aperture 8 megapixel rear camera and 1,2 megapixel front camera, there is also dual LED flash light in the rear, the greater the battery in order to achieve a better life. And iPhone5S killer bears greater level of functionality – fingerprint recognition. Unfortunately, that for this killer level features we did not get more information, I hope Apple can at the press conference to give us more surprises.
Secondly, iPhone5C will be Apple's first relates to low-end market. Unchanged in the hardware at the same time with the iPhone5 will be equipped with colorful plastic body, more attractive for young people. However, we should note that, iPhone5C Although the main low-end market, but its price will not be less than 3,000 yuan, after all, the price is too low sales of the previous generation would have some impact. So Xiaobian mainstream price will be estimated around 3300.
2.iOS7 official version
After more than three months of lengthy tests, iOS7 been gradually moving towards full, I believe that at the press conference with the official version of iOS7 will meet us. Flat design style, bigger icons, abandoned the traditional slide to unlock, are iOS7 relative to the previous generation system, the biggest change. In the official version of what change will iOS7? We dare guess, coupled with better Siri voice assistant? Adding more up menu shortcuts?, Or similar double-bright screen Android system gestures?
3. Generation iPod series products
Memories 2012 Apple's autumn conference, as the iPhone5 information is massive exposure, the newly designed iPod family has become the biggest surprise. Generation iPod touch5, iPod nano7 for Apple pocketed attractive. Well, this time, can we also see an updated iPod family do? Get the message from the current view, iPod get updates unlikely. But who can guarantee that Apple will not give us another unexpected surprise?
However, with the iPod series compared to other products, iPod Classic it is very embarrassing. iPod Classic last update is already four years ago, things, and the 160GB version is priced at $ 250 has been maintained, has never done any adjustments. For music lovers, iPod Classic is indeed attractive and full of unique mechanical turntable, although single function, but it can ensure that a sufficient number of music stores in which (about 40,000) and well-balanced sound output. However, as a commercial company Apple, will always adhere to produce a niche product sales in general? If Apple continues its indifferent, iPod Classic perhaps in the near future will fade out of our sight, as the history of science and technology and one is made out of a classic.
4.iPad 5/iPad mini 2
I believe many people will work with small series, as in looking forward to the legendary iPad5 and iPad mini II conference in the coming times, right? Various spy outflow would have us believe, a new generation of iPad and iPad mini will adopt the same process after the shell design, and the first ultra-narrow frame design; while iPad mini2 will use the Retina display. If the rumors are true, indeed in terms of attractiveness for the full fruit powder. Unfortunately, in Apple's history has never been released simultaneously with the new iPhone iPad precedent. If the conference is the protagonist of iPhone 5S/5C, in order to retain attractive enough, iPad5 and iPad mini2 perhaps can only wait until the next conference.
5.Mac pro
Remember June Apple Developers Conference amazing "trash" style desktop computer Mac Pro do? Prior to Apple's official commitment that it will launch in the fall, I believe that after this conference we can see a new generation in the physical store magical figure of the Mac Pro.
6.Macbook Pro
Macbook Air in June ushered Hasswell processor update, then the market for high-end Macbook Pro do? Apple certainly will not miss this chance. Expected will be powered by a new generation of Macbook Pro with the latest fourth-generation Core Duo Haswell processor, the hardware will work with the rest of the current style flat. However, the association recently IFA2013 to demonstrate a resolution of 3200 * 1800 Yoga 2 Pro, resolution than directly on the retina screen Macbook Pro. Apple will not follow up so as to further improve the Macbook Pro Retina screen display effect it? We do not know. But be sure, OS X 10.9 Mavericks will not we met in tomorrow's press conference.
7 shocking mystery product
Apple co-founder Steve Wozniak at the beginning once said: "Apple is making surprising new products." Its mouth "shocking new" what is it? Smart watch iWatch, smart TV iTV, or smart car iCar it? Nevertheless, although this conference this product does not meet with us, but Xiaobian believe Apple will not let us wait too long.
8 China's first simultaneous release of Apple's new iPhone
iPhone every time overdue for many fruit powder has long had to endure the cattle sky asking price. However, this cattle may be sad. According to reliable sources, Apple will be on September 11 at 10 am new conference held in China, mainland China will be announced first joined the iPhone first listed country (region) ranks the news, the National Bank is expected version of iPhone5S/5C and went on sale later this month. Meanwhile, China Unicom and China Telecom will be synchronized version of the new contract offer iPhone, and TD version of iPhone will also visit China Mobile. Three versions will be fully unveiled, your kidneys ready?