Short review of PiPO Platinum M9 Android tablet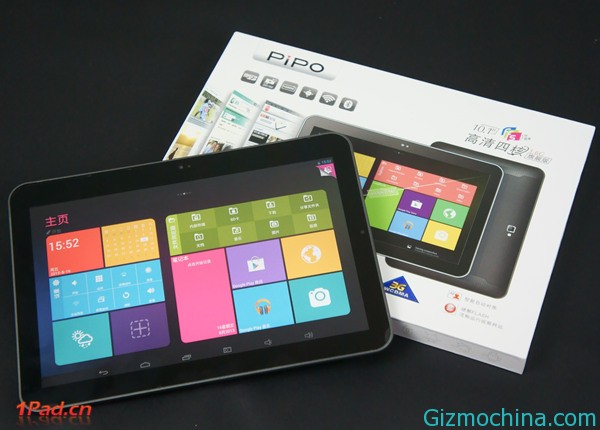 Today, there is a lot of retina display tablet on the market, since Apple has been release the new iPad with Retina Display technology, some manufacturer is follow the industry to built the same device with same technology.
PiPO as the one of domestic tablet manufacturer is now release their new tablet device which packs withretina screen display, the tablet is PiPO Platinum M9, this is the one of Android tablet device from PiPO that has 10.1-inch screen size and support for  GPS, gyroscope, and Bluetooth 4.0.
And now we eant to show you the short review of PiPO Platinum M9 tablet device:
M9 pro front is very common, law-abiding, the appearance, the back is plastic frame with aluminum rear shell, accompanied by gray and blue gray. The tablet market in the country get on very common practice, but the M9 pro feel pretty good, right and left side of the plastic frame with a contact, the hand can easily grasp the tablet, solution of a metal material easy to slip out of the question.
System Application
M9 pro has two desktop UI, a pure Android UI, a customized interactive imitation Metro UI. Native interface experience and everyone's Android mobile phone interface are basically the same, but the 10.1-inch big screen somewhat unhappy, because the display is still on the phone that set, so the screen a lot of places, there will be a large area of space, Google has not addressed these details to be optimized.
Platinum home made ​​goods a custom UI, which uses Microsoft's Metro style but slightly different interactions. Platinum's desktop products with multiple folders by default, we need only turn to the installed application classification can be put away, so classification clarity, accustomed to the Windows folder on the design of the user, this is a very good design. But this convenience requires pre-categorized folders for each application, more cumbersome. If we can streamline the next folder, and a small amount of good class preloaded essential App, should be able to classify a certain extent, alleviate the huge project.
Although the concept of classification is good, but the folder so much, too difficult to organize the point

Hardware Performance
Hardware part will be divided into the screen, camera, speakers, batteries and other parts to explain.
Screen
Screen, the product of platinum on the M9 pro done vigorously promote this screen, the third-generation IPS screen, with up to 700 nits brightness. To be honest, this brightness a little high. Chromebook Pixel, Macbook Air ultra-thin laptop screens of these currently only about 400 nits, M9 pro scene will not have to go out no matter what pressure (measured sunlight Xiaobian complete visibility under direct vision).
Screen brightness contrast: on 700 nits; under 350 nits.

Pure black screen when shooting, there is a slight side leaked prototype, non-spontaneous Guangping common problem (there are also a small number of iPad), basically does not affect the use of

Wide viewing angle screen viewing pictures, basically no can not see the dead

Webcam
5000000 The rear camera, in fact, took up the real experience is very general. Reduced to the size of the screen resolution looks pretty good, if you zoom in to the maximum, the effect will not be great.
Remote Shooting

Speaker
Official did not introduce too much sound, according to Xiao Bian should be observed this M9 pro dual speakers, voice sounds pretty good.
Battery
Life should be among the most important one tablet selection factors, the product of platinum M9 pro Nominal capacity 7600mAh, select the actual test Sohu video online watch, for example, either the client or the web, long time in more than five hours (recommended watch online with a browser, lower power consumption). In the Wi-Fi is not closed under the standby power consumption of less than 20% 56 hours, standby one week should be no problem.
Sohu video and smooth picture quality, 50% Brightness: Sohu Video App for the next watch, under the watch under the default browser

Xiaobian experience speaking, M9 pro considered to be relatively good Android tablets in a large-screen tablet, although in appearance design, system application characteristic points are few, but there was little flawed. Its bright 10.1-inch screen with full HD FHD powerful quad-core processor coupled with 2GB of memory, is definitely a big plus, and in the course of the overall use of very smooth, life is more to the force. This is a consideration with the highest version (Unicom 3G +32 GB storage space) is also only 1599 yuan cost-effective flat, small series that can strongly recommend it.