HTC One Max leaked out with fingerprint sensor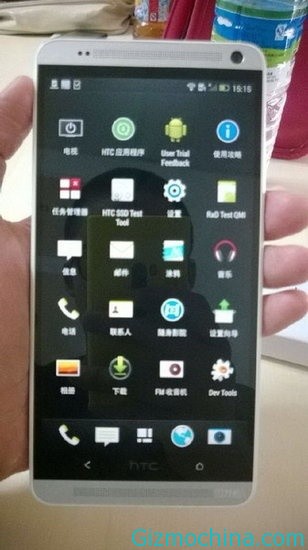 The rumor about HTC One Max Android smartphone has been unveiled recently, and now we have a leaked information about the new HTC One Max rumors, the phones will be equipped with fingerprint sensor.

After Apple iPhone 5S brings fingerprint sensor as a new feature for security, HTC is now ready to release new HTC One Max Android smartphone which bring fingerprint sensor in it's new flagship smartphone, this is the phablet device since HTC one Max is packs with 5,9 inch screen size.
The HTC One Max is also known as HTC 8088, based on the picture below, it's seems the prototype smartphone.
Nevertheless, these clearer picture still shows the machine uses ultra-narrow frame design, while the back of the fuselage fingerprint scanner is quite eye-catching. In addition, the mobile version HTC 8088 is also designed with the fuselage side of the three wireless charging contacts, which in the past HTC phone is very similar to the base of contact should be the protective cover for the wireless charging prepared.
Despite the exposure of the real machine does not leak of information about the system version, but according to microblogging client test information or confirm the latest version of the aircraft will be equipped with Android4.3 system, and will introduce a new version of HTC Sense 5.5 interface and Join touch pen functionality. Also, the machine will also add some new features, such as quick control options in the top right corner, also increased the notebook button, users can edit their own content and order quickly.
Processor Model doubt
It is noteworthy that, despite all the previous messages disclosure HTC One Max will load Qualcomm Xiaolong 800 processor, but according to the great God broke the news on Twitter evleaks disclosure statement said that the aircraft could be used in 1.7GHz frequency Qualcomm S4 Pro APQ8064 quad-core processors.
Although this news has not been confirmed, but if you really use HTC processor is not impossible. According to relevant media reports pointed out that more and more mobile phone manufacturers using Qualcomm Snapdragon 800 quad-core chips, and Samsung also acquired a large portion of products for Galaxy Note 3 used, resulting in this chip may be faced with insufficient capacity problem.
Or to be released in October
As for the machine's other main function configuration, currently there are not many secrets at all, such as will be equipped with 5.9 inches FHD Full HD SuperLCD3 touch screen, with 2GB of RAM memory and 32GB storage capacity, as the camera is equipped with UltraPixel technology and Join optical image stabilization, while the front lens compared to 2.1 megapixels, and added a two-way shooting.
HTC One Max mobile version comes with 3200 mAh battery capacity, but uses a non-replaceable design, but is able to remove the rear cover and support for memory card expansion. It is reported, HTC One Max in addition to the mobile version of this exposure outside of HTC 8088, there will be models for the HTC 809D electric version launched telecommunications, and has now passed the 3C certification, there may be officially released in October.