Faea Will Launch New Galaxy S4 Clone With Waterproof Feature
by Shine Wong Sep 27, 2013 2:00 am3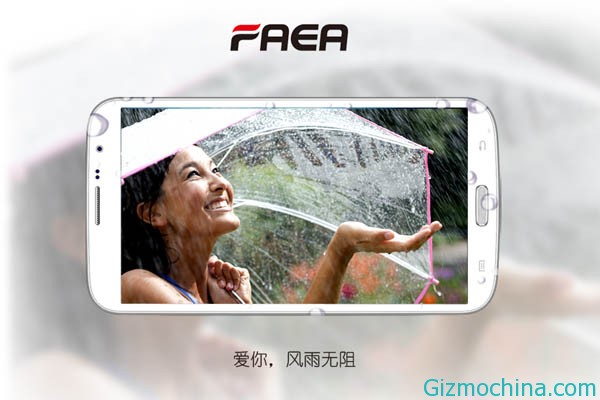 Although Faea is new phone brand (As I known, in fact, this factory has more than 3 years OEM phone manufacturing experience), but their phone is very impressive and made the cheapest NFC phone. Today, we have gotten a picture from official about the next generation phone, there is only a phone like Samsung Galaxy S4, but some water on the phone, and some words: Love you, whatever rain or shine. This picture maybe hint that the new phone has waterproof feature.
We have no more information about this new phone, maybe it will named Faea F3 according to their former model. The phone looks same with Samsung Galaxy S4 or Mega 6.3.
Faea is different with other China phone factory, they make something for user request. They are working with CyanogenMod on a open source project and will release CyanogenMod ROM soon. It will be first Cyanogenmod phone than OPPO N1.