A half of Android user is using Jelly Bean OS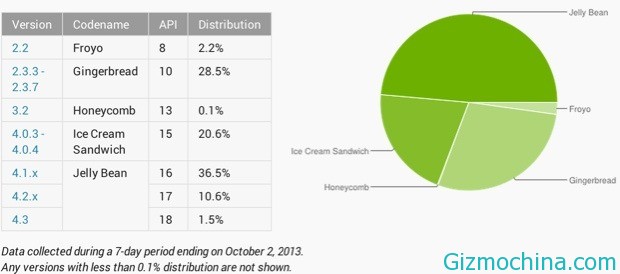 Today, the Android users are using Jelly Bean version, and now that version is reportedly increasing. It was noted by the report that was recently launched by the Android OS development team on the official website.

Through data collected up to October 2, 2013, nearly half of all Android users already using Jelly Bean version.
Android version 4.1.x users totaled 36.5%, while the version 4.2.x users as much as 10.6%, and are using version 4.3 as much as 1.5%. If in total, users who use Android Jelly Bean version, be it on smartphones and tablets, is of 48.6%, up 3.5% from last month.
Meanwhile, Android users are still using version Froyo are 2.2%, while the Gingerbread user are 28.5%, and Honeycomb user is only 0.1% since Honeycomb is only running on Tablet device, and 20.6% is running Ice Cream Sandwich.
The latest version of Android 4.4 or also known as KitKat was introduced not long ago, and that version will reportedly officially begin their roles in the coming weeks.