Newman smartphone is ready to release the 5.0, 5.5 and 6.0 inch screen size phone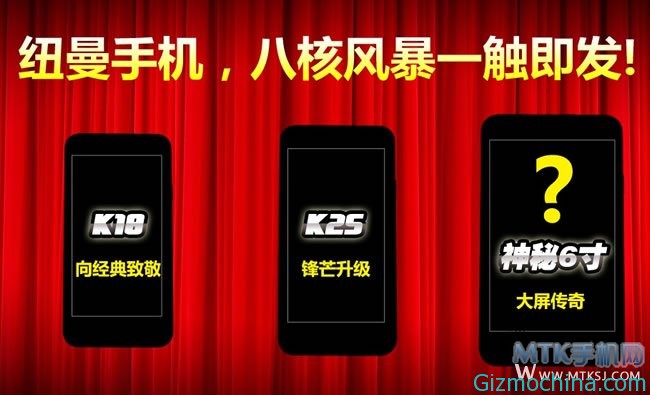 The MediaTek is now alaready release the true eight-core chipset through MT6592, while a year before, the MediaTek is sucessfully to introducing the quad-core chipset MT6589 processor to the market, it seems that the new eight-core MT6592 processor wil also making the eigt-core debut for mobile device.

One of Chinese smartphone maker, Newman is also ready to introducing the new flagship smartphone that powered by eight-core processor, the Newman will introducing three model of Android smartphone that packs with different screen size, such as 5.0 inch, 5.5 inch and 6.0 inch screen size. And interestingly, those three new smartphone will powered by MediaTek MT6592 eight-core processor.
The Newman K2S will packs with 5.5 inches screen size and powaered eight-core chipset. As you can see from the nmae, this model is upgrade version from Newman K2, this phone will has 2GB of RAM and used 32GB of internal storage space. Other specifications should not change too much, coupled with 5 megapixel front-facing camera and 13 megapixel rear facing camera.
The other two eight-core smartphone, which are 5-inch screen of Newman K18 and 6-inch screen smartphone is still mysterious. Newman K18 will be playing a classic product, with high configuration and more refined appearance of the work, it is only has 6.17 mm body thicknessand will use metal material.
Unfortunately, we don't have any information about the name of mysterious big screen new smartphone, the phone is equipped with 6 inches FHD Full HD OGS screen and eight-core processor, has a thin body and a large battery, and supports handwriting capacibility.