Take your GooPhone before too late!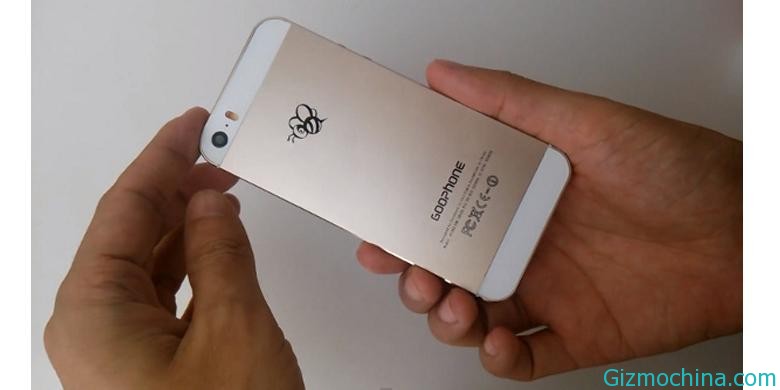 Goophone, the one of famous smartphone vendors from China is back in action. after we've covered the news about the GooPhone products and now we have another news about those phone, GooPhone is a China-based company has just alaready launched its Googphone i5s Android smartphone.

As the name implies, the product is a counterfeit product of Apple's latest phone, the iPhone 5S. The difference, Goophone has lower specs and also runs on the Android operating system rather than powered by iOS operating system.
Talking about the design, Goophone i5s has a similar design with iPhone 5S. The phones use aluminum for its body parts. Color options available are the same, black, silver, and gold.
In fact, this product seemed to be packs with the Home button that also has fingerprint scanner, as same as  the original iPhone 5S. Obviously, the Home button at Goophone i5s can not function as the sensor.
The phone is running Android operating system but has similar user interface with iOS 7. Wallpaper and icons that can be found on the flats iOS 7.
Although very similar, the prospective buyer can actually distinguish Goophone i5s with iPhone 5S with fairly easily. In the back body of Goophone i5, the buyers will not find the Apple logo, but that has bee logo is the Goophone posts.
Goophone i5s come with a 5-inch display that supports qHD resolution of 960 x 540 pixels. Powered by  MediaTek 6572 1.2 GHz dual-core processor, sports with 1GB of RAM, packs with 5 megapixel camera with flash, and sports with 16 GB of internal storage.
This phone is offered with very affordable price, when compared with the original iPhone 5S, the GooPhone i5S is offers with only $299 USD, while the original iPhone 5S is offers $650 USD price for 16GB version.
This phone has got the positive response from at the Chinese market. The phone is also sold over the Internet is already out of stock, but you can order this phone through anybuying.com and grab yours Black or White GooPhone before too late!