Samsung Galaxy Note 4 already has its clone: GooPhone Note4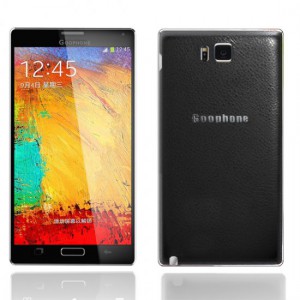 A couple of weeks away from the official launch of the new Samsung Galaxy Note 4 at this year's IFA in Berlin (Internationale Funkausstellung Berlin, or "Berlin Radio Show"), GooPhone has already announced an exact replica of this device. To create the Note 4 clone, GooPhone has used image leaks, dimensions and other details available of the original model as source.
This won't be the first time that GooPhone launches a replica even before the original model has been released. The same happened with the i6 GooPhone, a clone of the already unavailable iPhone 6 released on the 1st of August, and with GooPhone S5, a clone of Samsumg Galaxy S5. So far, GooPhone has proven to do an excellent job replicating the features of other models.
The GooPhone's new mobile phone will feature a 5.7-inch FullHD a Mediatek MT6592 processor, eight-core 1.7 GHz, 2GB of RAM and 16GB of internal storage. The front and rear cameras will have, respectively, a resolution of 13 and 5 megapixels. The internal memory of this clone will be expandable via an microSD, which most probably won't be possible in the original Samsung Galaxy Note 4. GooPhone's new clone will use Android 4.4 (KitKat) as operative system, will be able to hold two SIM cards, and will be powered by a 3200 mAh battery.
Both the original Samsung Galaxy Note 4 and the replica from GooPhone will go on sale next 15th of September. The retail price of this phone will be, of course, much lower than that of the original, although the final retail price is still unknown. One thing is sure, though, the cost will not be superior than 380 euros, about 500 US dollars.