Google Nexus 5 officially launch with 5.5 inch screen, Android 4.4 KitKat and Snapdragon 800 processor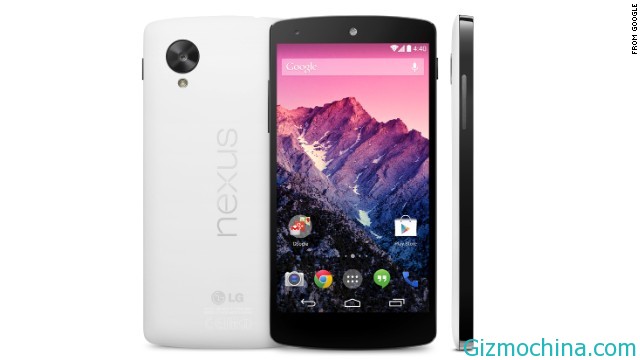 Finally, Google is officially launch the new Google Nexus 5, this phone is built by Google and LG as well they did on the Nexus 4 and this phone has some improvement comparing the predecessor.

The most striking feature is in the screen size, this phone is packs with 5.5 inches screen size. The screen also has a full HD resolution. From the outside, this smartphone is made of plastic material which makes it quite light and thin. In addition, this smart phone is also equipped with the latest Android OS 4.4 KitKat from Google.
On the inside, this smartphone has specifications equivalent to the current high-end smartphones. Among these are Snapdragon 800 quad -core processor, support by Adreno 320 GPU, 2GB of RAM  and optional 16GB or 32GB internal memory. However, the smartphone is not equipped with a microSD slot for additional storage capacity .
Other improvements in this phone is the presence of 8 megapixel camera with LED flash light on the back. Interestingly, this camera is equipped with optical image stabilization (OIS) which claimed would bring the unsurpassed performance in dim conditions. OIS technology on the Nexus 5 is the same as that used by LG G2 smartphone.
This smartphone has 2300 mAh battery capacity. And of course, the Nexus 5 also has a wireless charging capabilities as well as owned by Nexus 4. Google had already started selling the smartphone with the Google Play Store. For the 16GB version pegged at $349 USD, while the 32GB version has $399 USD price tag.
This phone will hit the Chinese market on mid-November, so let's wait and see.
Nexus 5 specs
Display : 4.95-inch Full HD display, 445 ppi
Dimensions : 137.84 x 69.17 x 8.59 mm (5.42 x 2.72 x 0.34 inches)
Processor : 2.3GHz quad-core Qualcomm Snapdragon 800 (MSM8974)
GPU : Adreno 330
RAM : 2GB
Internal Storage : 16GB or 32GB
Camera : 8MP auto-focus camera with OIS
Front Camera : 1.3MP
Sensors : accelerometer, magnetometer, gyroscope, proximity, light, barometer, orientation
Battery    : 2300mAh with support for wireless charging
Other: Multiple LTE bands – support for Sprint and T-Mobile; Pentaband HSPA+ (works across the globe), NFC, Nexus 7-like design, ceramic physical buttons