MediaTek is ready to launch the LTE chipset

MediaTek is now ready to launch their true eight-core chipset not only that, they also ready to launch the first LTE support chipset in the market and make the big impact in the mobile device market since MediaTek is always offers a more affordable price for chipset.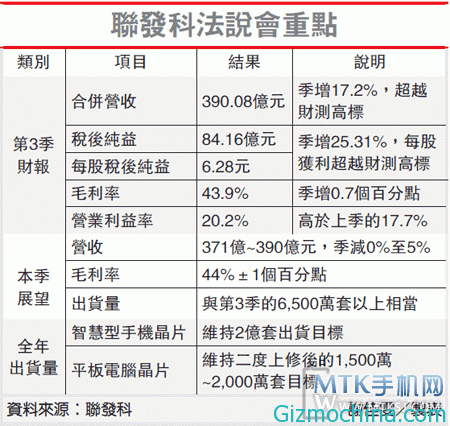 On November 1 st, MediaTek Technology has officially launch the Investor Conference event that held for Q3 reports, this year, MediaTek revenues has increase of 17.2% over Q2, succesfully to supply for more 65 million units chipset shipment that are expected to 200 million units, tablet computer chip remained 1500-2000 million sets goals.
MediaTek Genera Manager Xiejiang Qing, has also done a brief description that will be launched the MediaTek chipset that support for LTE network and this is not only the first true eight-core chipset on the market but also the first chipset that support LTE connectivity using 20nm process chip architecture.
While for now the 4G era is already arrived quickly, that's why MediaTek is enter the 4G market. On Q2 next year, MediaTek Q2 will be in mass production of complete LTE system-on-chip (SOC), first introduced before this is AP + MODEM version, integrating the existing four-core, eight-core chip shipments. Xiejiang Qing said that even if MTK is the first mass-produced version of AP + MODEM, with MediaTek's price and other advantages of the high degree of integration, access to customers and users alike is not a problem. Another early as June of this year, MediaTek official once said that its LTE chip can support lots of frequencies, including TD-LTE, FDD-LTE, TD-SCDMA, WCDMA and GSM / EDGE mode. This article comes from MTK mobile phone network http://www.mtksj.com
Smartphones with 64-bit processors have become a hot and contentious topic since Apple announced the iPhone 5s. And now MediaTek is trying to produce the true eight-core chipset through MT6592 with 28-nanometer HPM process, it's  also revealed that MediaTek towards more advanced process technology transfer, in the next year, MediaTek will be mass production of 20-nanometer chips, but more advanced 16nm FinFET process is ready to come.