Huawei Ascend Y300II smartphone with Firefox OS is leaked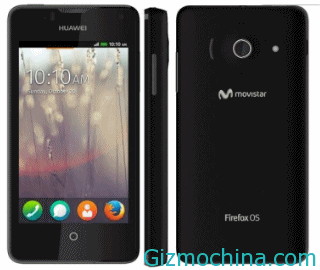 Telefonica movistar brand previously been cooperative with ZTE and Alcatel to launched ZTE Open and Alcatel One Toauch Fire, both phone models is running with Firefox OS, and today the company is in cooperative with Huawei, to unveiled the Huawei Ascend Y300II this is the smartphone that running with Firefox OS.
Ascend Y300II has black exterior cover with 4-inch screen size, while the back body of this phone is marked with Movistar company logo, and you can see the back of the camera has LED flash light. The right is the volume control keys, the difference is the unlock button to the left of this design.
Here is the basic configuration of Ascend Y300II Firefox OS smartphone:
System version: Firefox OS v1.2
Processor: 1GHz dual-core
RAM: 512MB
Storage: 4GB, expandable up to 32GB.
Camera : 5 megapixel back, with flash; and 3 megapixel front facing camera.
Screen size: 4 inches
Other: WIFI, Bluetooth as well as some sensing capabilities.
Compare recently launched LG Fireweb, Huawei Ascend Y300II configuration has been greatly improved, such as dual-core 1GHZ (LG models for the single-core), front camera (LG models do not has front camera) and so on.
The models listed times are expected for the Q1 of 2014.