Smartwatch comparison that already in the market today.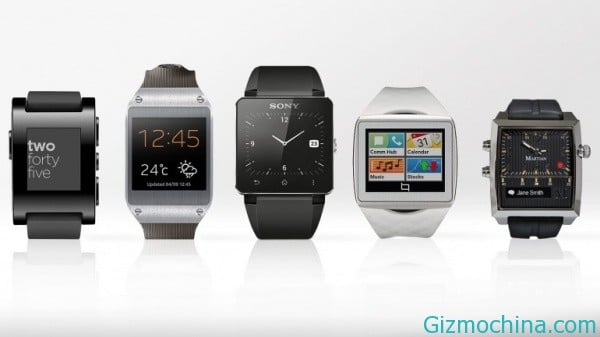 Ever since Google Glass sparked a new wave of wearable devices including Apple manufacturers including Samsung have announced its entry into the field, and smart watches will become their first breakthrough (Apple has not yet released). In the current market, many of them similar to the Smart Watch Galaxy Gear's rising star, also has come out of the financing platform Pebble, of course, forget the giant chip maker Qualcomm carefully crafted Toq, in the upcoming Christmas shopping season in those smart watches worth buying? Besides the media were on the 2013 inventory of smart watches.
Smart watches description:
In fact, many so-called smart watches are not smart watches from the true sense, but Kickstarter platform or financing or Samsung Qualcomm and other manufacturers of waves, we are very pleased to see the development of the field in the early emergence of a very good idea and equipment . Next we introduce this selection of five players:
■ Pebble
■ Samsung Galaxy Gear
■ Sony SmartWatch 2
■ Qualcomm Toq
■ Martian
We did not like the Jawbone Up, Nike Fuelband and Fitbit Force and other fitness equipment included in this selection, although these types of watches accessories and content of this vote a little overlap, but we should focus on more generic smart watches.
Can be used independently from the smart phone?
For this selection of five smart watches can be separated from the smartphone and run independently, they are more like a smart phone extension, providing such notification reminders, telephone answering and other related services. Before using the smart watch and phone functionality you need to match, or they completely and "smart" out of touch. From the very real sense that they are not smart watches, just phone peripherals.
Android Compatibility:
The selection of five smart watches are compatible with Android devices can be very good, but there are subtle differences and system compatibility, in addition to the other four watches Galaxy Gear can be compatible with all Android devices. Currently only compatible with Samsung's smart watches, such as Galaxy Note III, Galaxy S4 and derivative versions, Galaxy S3 and derivatives, such as the ability to upgrade to version 4.3 of Android devices.
iPhone compatibility:
Only five devices at Pebble and Martian two smart watch both good compatible Android devices can support iPhone devices. Besides these two watches App Store shelves are proprietary applications.
Android notification:
The maximum function is to act as smart watches notification device, which is also present in the core values ​​of smart watches. For support notifications directly affect the consumer's purchase enthusiasm. Currently there are five watches 4 can support all types of mobile client notification, but worth noting is the Pebble and the Sony SmartWatch 2 need to install third-party applications to support from the Play Mall.
iPhone notification support:
Pebble in the latest update of the iPhone already supports all types of notifications. The Martian just restricted to incoming calls, text messages, calendar entries, reminders, Facebook and Twitter, and non-push mail. Martian said that it would provide a more comprehensive notification support in a future release updates.
Voice Assistant:
Martian in this field is absolutely killer level exists, it can notify the platform supports iOS and Android Siri voice assistant system, Google Now, this watch is like Bluetooth accessories, and smart phones that allows you to send voice after pairing e-mail or text messages, set reminders, check the weather, make a reservation, view tournament circumstances.
Samsung Galaxy Gear built its own S Voice voice assistant, but compared to the Google Now and Siri is not on the same level.
Size:
Smart watches as portable equipment size tends to be an important indicator of consumer concern, from the perspective of actual measurements of the dial Samsung Galaxy Gear largest size, so more suitable for male users.
Weight:
Based on the same portable considered overweight if smart watches will greatly affect the wearing experience. Fortunately, however, the weight of which five are not heavy equipment, which is the lightest Pebble, the most important is the Sony SmartWatch 2.
Work:
Qualcomm Toq smart watches released yet, so we do not know details about the product. In addition to the use of plastic material Pebble other three are outside the metal material.
Color:
Pebble and Galaxy Gear provide rich color for consumers to buy, but Sony is currently only available for consumers to choose black.
Spare Style:
Currently only Martian smart watch offers three different styles of appearance for consumers to choose.
Screen size and resolution:
There are 4 devices made of all screens in five devices, which in these screens Galaxy Gear screen size and sharpness of these devices is the best. Screen smallest Martian, it is just below the conventional dial placed in a horizontal screen.
Screen type:
Three smart watch with a touch screen can be, Pebble and Market is controlled by buttons or keys beside these screens in the sun have a very good look into the results.
Call;
If you still carries a smart watch originator Dick Tracy watch calls for a dream, then the Galaxy Gear and Martian meet this standard, let you make calls through the watch without any problems. The only difference is that Gear microphone and speaker placement in the strap, so can be more fit to your face.
Camera :
The need for a smart watch camera is still debatable thing. If you need to, then the Galaxy Gear is your only choice. Currently only Galaxy Gear this smart watch with 1.9 million camera.
Motion Tracking:
In addition to the notifications and voice control of smart watches Another additional feature is a health tracking device for use. Although these watches are not a professional fitness tracking devices, for example, but there are four in five models with the device pedometer and other related functions, and can run like RunKeeper or Runtastic third-party applications.
Life time:
Choose smart watch means that it also needs to be completed as smart phones like charging. In our tests, we found Pebble longest battery life, while Galaxy Gear you need to charge like a mobile phone every day.
Bluetooth:
These devices need to be connected to the smart phone to complete the Bluetooth pairing to be working properly, so the difference in later versions of the standard range of the Bluetooth connection means life and on. Currently Pebble, Galaxy Gear and Martian three smart watches supports the latest Bluetooth 4.0 LE (Low Energy), if your phone supports Bluetooth LE, then it means that life will be greatly extended.
Wireless charging;
Qualcomm Toq smart watches have been identified to support wireless charging, so you only need to place at night can be in a position to charge.
Water features:
At present we do not know the characteristics Qualcomm Toq waterproof watches, from the point of view Pebble Specifications provides more than 50m waterproof, so users can be very reassuring to go swimming with Pebble.
NFC;
Near-field communication function (NFC) for smart watches is a very interesting extensions, documents can be easily shared and mobile payment . Currently only Sony SmartWatch 2 provides a NFC chip.
Interchangeable Strap:
If, after a long strap to wear to have produced disgust, then Pebble, Sony SmartWatch 2 and Martian three watches offer free strap replacement, you only need a standard 22nm can be replaced.
Price:
In the five most expensive models of smart watches Qualcomm Toq smart watches, the most expensive is the Pebble.
Optional summary;
And as smart phones and card machine is right for you is the best electronic digital devices. First, smart watches are not suitable for all consumers, the future of Apple and Google, two giants join inevitably lead to more intense competition.
In the past few months we have these four smart watches (Toq not yet on sale) were tested, I found that I did not have the kind of hard to go back to the days of smart watches. Through smart watches to notice and respond to really allow us to appreciate the heavier convenient if you want to start in this Christmas shopping season, then this is the foreign media share purchase Ranking:
★ Pebble review
★ Galaxy Gear review
★ Sony SmartWatch 2 review
★ Martian review