MediaTek is ready to release MT6590 chipset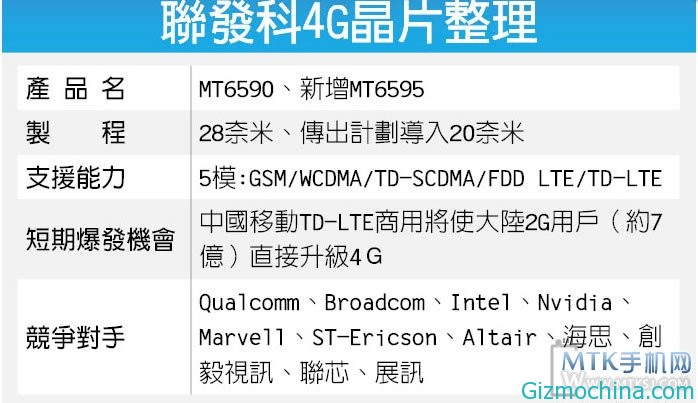 While the TD-LTE is becoming more popular in Chinese market today, is now a lot's of Chinese phone maker to built their products with LTE 4G connectivity, and one of chipset maker MediaTek is also preparing their new processor that work on 4G LTE network.

Earlier than expected, after MediaTek release their first true eight core chipset on the market through MT6592 and MT6595 processor, is now they ready to release MT6590 processor.
The latest news shows, not only the MT6590 will be listed in advance, integrated 4G MODEM the other eight-core SOC MT6595 may also advance to the January launch.
The source to Taiwan media, came from the industry analysts, the news that due to the succession bulk MT6589/6582 series and eight shipments of MT6592, MediaTek fourth quarter 2013 revenue or growth than expected.
In addition to already published true eight-core MT6592, formerly code MT6290's 4G baseband chip MT6590 will be launched in January of this year, 4G eight-core SOC MT6595 also significantly earlier than the time listed on the original plan, reportedly ratio analysis who expected the six months ahead, will be available in January of this year, which came with the 4G era of accelerated and major chip manufacturers competing to launch LTE chips lead to increased competition have a great relationship.
MT6595 and MT6592, is a complete solution that supports 5-mode (TD-LTE/FDD-LTE/WCDMA/TD-SCDMA/GSM) multi-frequency, although the news that the MT6595 may introduce 20nm process, but come too early and 6592 may be the same as the 28nm process technology. In addition MTK6595 also have eight physical cores, thereby to enhance their competitiveness.
In addition to the upcoming 4G chips, allegedly MediaTek chip 64 is expected to provide customers with the test in the second quarter of this year, before the continuation of multi-core strategic products, will have 4 cores / 8 core version.