Xiaomi Mi3 China Unicom version is using different chipset and has different performance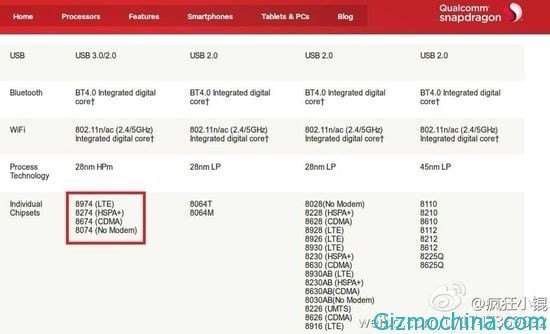 Ray Ng Wan, the folks from Chinese has unveiled the news that the new Xiaomi Mi3 for China Unicom has unveiled the Xiaomi is using different processor for each bands.

While the device is using Qualcomm Snapdragon 800 MSM8974AB replaced by 8274AB processor model, responded to Xiaomi two processors in terms of performance the undifferentiated, only this version does not support the 4G.
Shen Jin broke the news yesterday, vice president of Qualcomm respond, saying that 8974AB and 8274AB is the same chip, there is no difference in performance. But 8974AB can support 4G/LTE, can also be used on 3G mobile phones, mobile phones need to do 4G/LTE 4G Qualcomm baseband chip. 8274AB support WCDMA.
Alleged private exchange Xiaomi Mi3 Unicom version of the processor to respond to: Performance undifferentiated
Xiaomi said that two chips of Qualcomm's 8x74AB range of products, according to information provided by Qualcomm showed no difference between the two properties, but different support networks, Xiaomi Mi3 advertisement has been saying that phone to support China Unicom 3G network, not to mention China Unicom to support 4G, it is not false advertising.
While for being sued, Trade and Industry will initiate an investigation of the claims.