Rockchip preparing SmartGlasses for CES 2014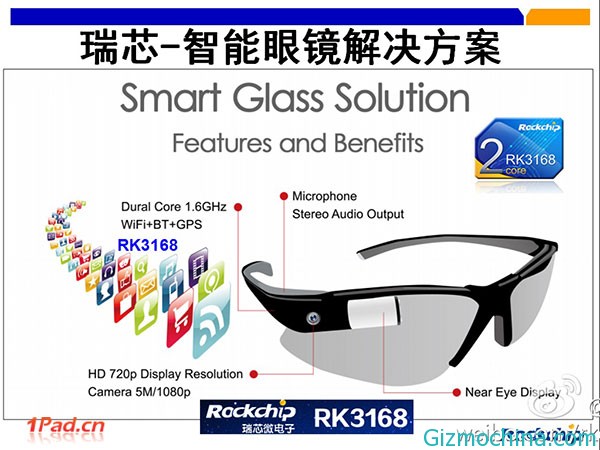 CES or also known as Consumer Electronic Show 2014 that already held in Las vegas on January 6th 2014 will becoming the nice event for consumer who want to update their gadget, and one of the chipmaker, Rockchip, this event will use to introduncing their new products.

Rockship is now preparing their first Smart Glasses device, according the Rockchip CMO's Chen Feng, he said at his microblogging account, they will unveiled the new smart glasses that powered by  RK3168 chipset, at CES 2014.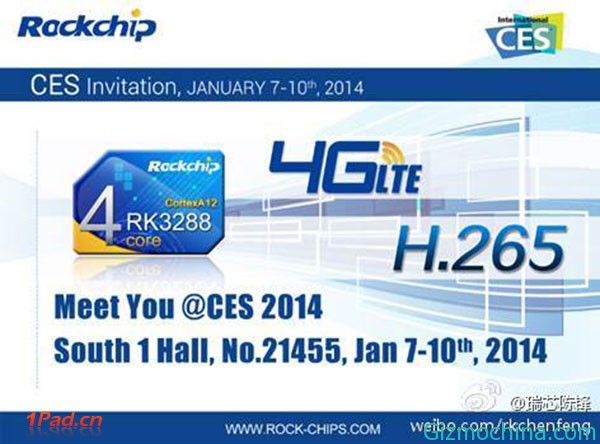 The Smart glasses will powered by RK3168 dual-core processor, running at 1.6GHz clockspeed,and sports with 1GB of RAM and 4GB flash memory. It integrates Wi-Fi, Bluetooth, GPS chip connected to the three upper side, there is a right lens glasses close less than 1.5 inch display screen, the screen and then to the right is a 5 megapixel 1080p camera and stereo speaker output. There are a lot of App icons, small glasses guess this can be installed App, should be customized based on the Android system.
This devices is different with Google glasses. While the Google Glasses is powered by Texas Instruments OMAP 4430 dual-core processor, 1GB RAM, 16GB flash memory, integrated Wi-Fi, Bluetooth, USB three connections chips and a variety of sensors. Google glasses screen and Rockchip glasses almost great, but it takes projection mode display with a resolution of 640 x 360. It's on the right side of the screen is a 5 megapixel camera with 720p USB port.
Google glasses can bone conduction via the built-in headset or a USB port to connect the headset to receive the sound emitted by the glasses, and the Rockchip smart glasses directly using the speaker mode. Difference between the two sound output, which led to their use in different occasions. For example, we can use the Google Glasses answer the phone, listen to music, but it is certainly not appropriate Rockchip glasses.