Huawei released the Ascend Mate 2 4G smartphone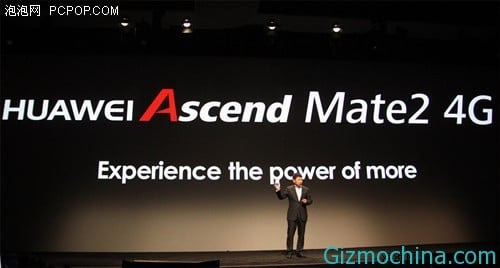 Huawei has officially launch their new flagship smartphone, Huawei Ascend Mate 2 4G in Las Vegas. IN the COnsumer Electronic Show (CES) 2014 event Huawei is introducing their new Huawei phone on the market.

The new Huawei Ascend Mate 4G smartphone is the upgrade version from Huawei Ascend Mate that also release on CES 2013 a years ago. The Ascend Mate 2 4G brings 6.1 inch screen size and popwered by 4050 mAh battery capacity and has 4G connectivity.
The Ascend Mate 2 4G has improving the processor, coupled with front and rear cameras, built-in storage, camera, navigation , business office and other functions to do a certain degree of improvement and upgrading. According to reports, Huawei Ascend Mate2 4G will be available this February in the domestic market and rapidly in many countries in the world market.
Comparing wit the first-generation Ascend Mate smartphone, the new Ascend Mate2  4G has a biggest change is the addition of support for 4G LTE. Huawei is also demonstrated its worldwide leading position in the 4G LTE, Huawei Mate2 4G download speed (theoretical) of up to 150Mbps. In addition, Huawei Mate2 4G in camera also has improved significantly, the machine uses a combination of 13megapixel camera stacked BSI rear camera and 5 megapixel front camera , use of aircraft self-timer, you can also record behind panoramic Moreover, it supports The new remote shooting function, connect Ascend Mate2 4G's camera interface via Renyiyitai Android phones, you can remote control camera.
Huawei Ascend Mate2 4G maintaining 4050mAh capacity lithium battery, based on the power consumption of the entire phone is optimized to enhance endurance more than 30%, the press conference, said Yu Chengdong, chairman of Huawei Device Huawei Mate2 can keep three days of use, Even the use of relatively heavy can be maintained in 1.7 days without recharging.
Huawei Ascend Mate2 4G equipped Emotion UI version 2.0, comes with Simple UI mode and mobile phone housekeeper while, Mate2 newly added support for NFC, and optimized navigation.
Other aspects, Huawei Ascend Mate2 4G screen resolution is still using 1280 X7 20-pixel, high-pass and Hass quad-core processors in two versions, the storage upgrade to 2.0GB of memory and 16GB internal storage, Bluetooth 4.0, also white with black Two body color, can be replaced after the demolition of multi-color cover sleep holster.
The conference did not announce a specific price Ascend Mate2 4G, we guess its domestic price should be around 3,000 yuan.